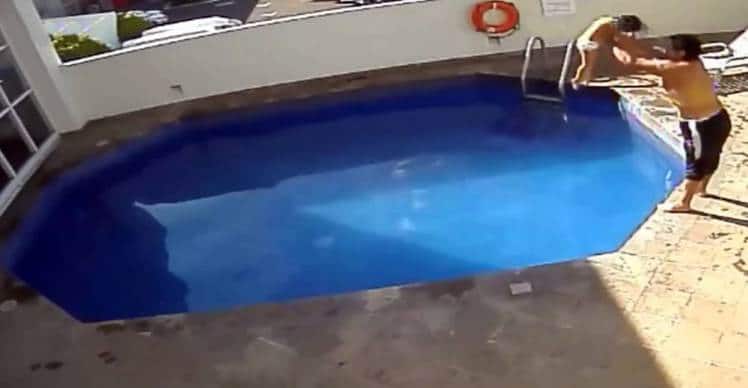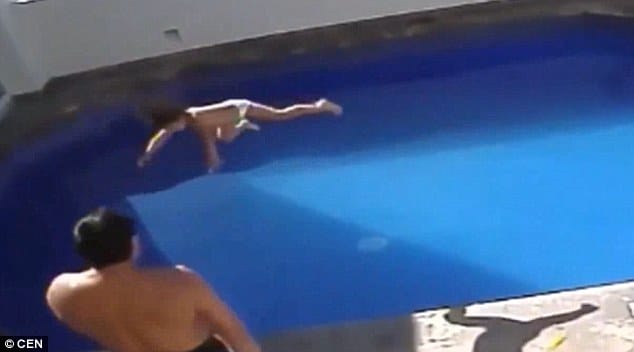 Going viral is a shocking video (see below) showing the leading moment a three year old girl is thrown into a hotel pool by a man thought to be her stepfather and drowning.
In the video, a well built man is filmed repeatedly throwing the toddler into a hotel swimming pool in Morella, in the south west Mexican state of Michoacan.
Hotel video footage captured on August 12th shows the toddler battling to stay afloat as the man takes to submerging the girl several times. Incredulously the above takes place with other guests in the pool.
According to a report via Quadratin News, the unnamed man after having thrown the little girl in the water was observed walking away before returning and tossing the child back in fully clothed.
Sadistically the man stands at the poolside not budging as the girl desperately flails her arm as she begins to lose the ability to remain above water. At one point, presumably after relishing watching the girl suffer, the man throws the girl a lifebuoy but by then she is to weak to grab it.
According to local media outlet, Proceso cops said the man and his partner and her daughter were staying at the hotel together. At the time of the drowning the mother was asleep in their hotel room.
The mother is said to have taken her daughter to hospital after realizing her daughter wasn't breathing with doctors confirming the child had died.
A post-mortem examination revealed that the cause of death as mechanical asphyxia by drowning.
Police say the man has since been arrested and charged with aggravated homicide and treason.
He has been detained in custody while investigations, which could take months, continue.