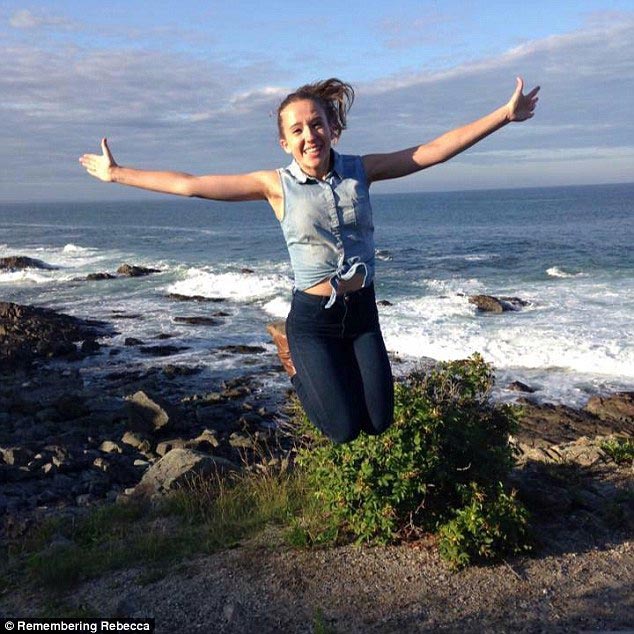 Rebecca Townsend a 17 year old Connecticut teen has been killed after saving her friend's life, in the process completing her must do bucket list she'd written for a high school assignment a year earlier and inspiring a community with her devoted selflessness.
The teen's bucket list had come about after writing a letter to her future self in December 2012 as an assignment at Immaculate High School in Danbury, Conn.
The revelation of Rebecca Townsend's bucket list, including a three item bucket list was discovered on her bed by the teen's sisters shortly after she died July 2 according to a report via womansday.
'Kiss in the rain,' she wrote. 'Fly to Spain. Save a life (not really scary though).'
Townsend had completed the first two items of the list, with a trip to Spain with her parents and after sharing a rainy kiss with her boyfriend, Niko.
The third was her final act in life when she shoved 17-year-old Benjamin Arne out of the way as a car barreled towards them about 9 p.m. that night in Danbury. In doing so, Rebecca Townsend would take the fatal fall.
Ben survived and was hospitalized immediately afterwards in serious but stable condition.
Upon being released from hospital, Arne visited Rebecca's family.
Told Rebecca's sister, Victoria of Arne's visit to the family home via buzzfeed: 'He said, 'The last thing I remember is Rebecca pushing me and telling me to hurry up."
Another sister, Monica Townsend, read the bucket list as she eulogized her youngest sister, the family's 'bonus baby,' on July 7.
'Who knows why Rebecca was looking at that letter the night she left us … but I think it's her little way of telling us she is OK; she accomplished what she needed to; she made it.'
According to the Danberry newstimes Rebecca Townsend had excelled in high school, starting a local chapter of a charity called She's the First, which sponsors education for girls in third world countries to help them become the first in their families to graduate from secondary school.
Prior to her untimely death, Rebecca had been set to attend the University of Notre Dame in South Bend, Ind., this fall.
With the news of the 17 year old teen's death since going viral on social media under the hash tag, #RememberingRebecca, over 17,000 people have liked an associated Facebook page, while nearly 1 993 people have begun following a similar Instagram account filled with photos of the 17 year old teen.
Several followers have posted photos of themselves paying for someone else's Starbucks or a yoga class in Rebecca's honor, whilst another follower said she would be donating her bone marrow in memory of the fallen teen.
In turn the Notre Dame class of 2019 also started a Go Fund Me page to create wristbands in memory of the student who was unable to attend, donating money to the She's the First nonprofit.
Reflected Rebecca's sister, Victoria via the nydailynews: 'We miss her a lot,'
'We're really happy she's inspiring people, but it's really hard seeing her face everywhere. We just want her back.'