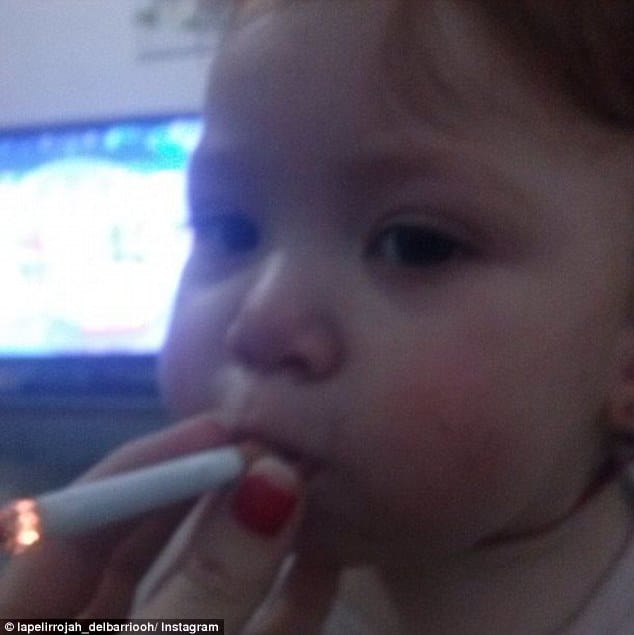 A Spanish woman has caused disconcert after uploading a picture of a baby smoking a cigarette.
The image first posted back in January depicts that of an adult hand holding a lit cigarette against a baby's mouth baby, the child's lips pursed as it inhales deeply.
Using the instagram handle# lapelirrojah_delbarriooh, the 18 year old woman from Valencia posted the following accompanying text:
'Already smoking at a year old, love you little one, you're my f****** life.'
Since being uploaded the image has attracted 2,000 likes and more than 36,000 comments, with many branding it child abuse whilst others have questioned if the 18 year old account holder is the mother and why she would resort to uploading the 'profane image.'
What has equally perplexed and astonished social media users is the suggestion that at the time the picture was taken the child was indeed dragging on the cigarette as the opposite end shines brightly. 
Responding to the outcry, Antonio Nieto, president of the Spanish Association of Pediatricians, told The Local: 'I think the police would definitely consider it to be child abuse, it is just absolutely unbelievable.'
'Tobacco is intrinsically even worse than heroin and to give it to a baby whose lungs are still developing is even worse.
'Even children who are exposed to passive smoking are more likely to develop lung conditions such as asthma or chronic bronchitis.'
While it is not clear whether the owner of the account is the mother of the child, there is another picture of the same baby girl with the caption 'my only'.
Lapelirrojah_delbarriooh, which means 'neighborhood redhead', began uploading images in December last year, with her profile heavily featuring images of herself in bikinis, alongside images of cannabis and guns.
Commenting on the picture, user soolootuuyaa wrote: 'You disgust me as a mother and as a woman and as a person and hopefully the girl is taken away.'
Elvis_black_fire said: 'It incredible that so many people who are trying for a baby will give up smoking because is poison for a baby.
'This girl is growing and still has its weak lungs, for me this is like making her drink poison.'
Meanwhile mar78ct added: 'I hope that girl is now in the hands of someone who does not want to cause premature death.'
Many of the users sent the picture to the Instagram account of the Spanish police, though it was not clear whether any action was taken against the user as of Tuesday evening EST the image no longer exists on instagram.