A 19 year old vegetarian model going by the name of Chanel appearing on MTV's True Life has told she bathes in pigs blood to keep her skin looking youthful.
In the series, I'm Obsessed With Staying Young. the freelance model/actress tells her grandmother Lois: 'My greatest fear is getting old and developing wrinkles and extra loose skin,'
'So to prevent that from happening I must do whatever it takes.' 
Adding: 'I feel like thousands of years ago" people did that and "they preserved their youth."
Expressing degrees of skepticism, Lois asks her granddaughter for proof but Chanel is hardly forthcoming, telling only:
'I'm sorry my grandmother is worried about my health, but now that I'm this close to my blood bath, I can't stop.'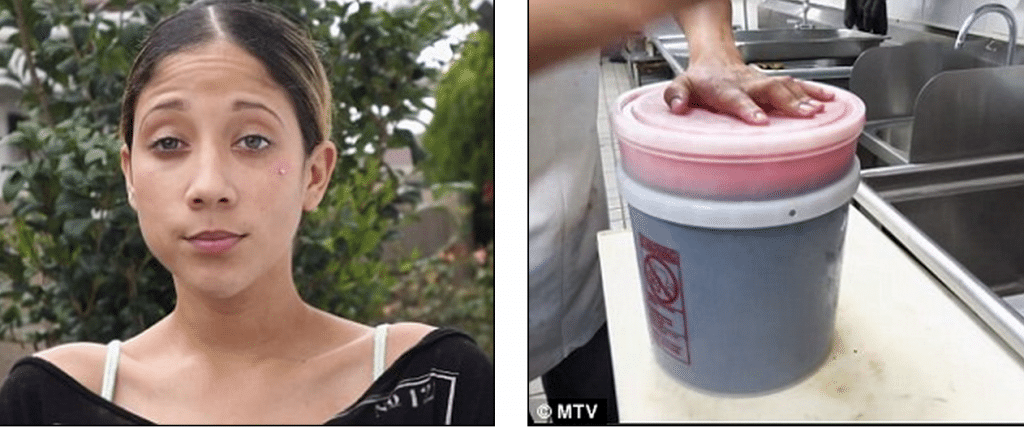 After picking up the pig's blood from a butcher, Chanel climbs into a tub wearing only her underwear and begins pouring the yummy delicious red liquid all over her body. The model, the proceeds to describes how 'even the roughest parts of the body like the elbows feel soft, and I think I owe that to the blood'.
Indeed.
Later in the episode, Chanel claims that though she believes the blood bath helped her self-esteem, nevertheless she 'has no desire to do it again'.  
Can anyone guess why?
Luckily for Chanel, the experience of filming with MTV seems to have had a positive outcome. As she reveals in a follow up Q&A with the channel, she was 'humbled' by the reactions she received.
'I never believed I was that off my rocker,' she adds.