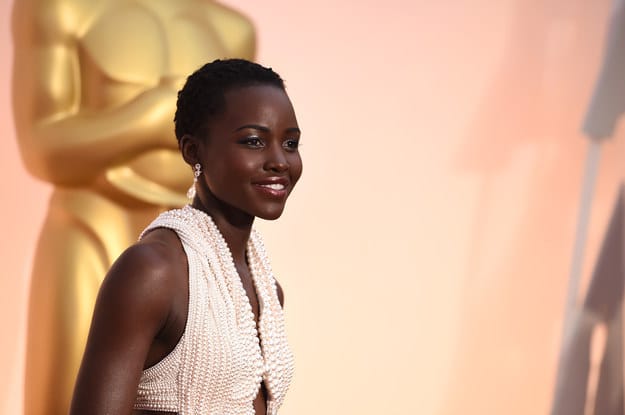 Authorities are reviewing hotel surveillance tape in a bid to discover who may have stolen Lupita Nyong'o's $150 000 pearl dress which the actress wore this Sunday at the Oscars.
According to a report via the nydailynews, the '12 Years a Slave', Oscar-winning actress sought to notify authorities immediately upon discovering her lent out Calvin Klein dress was stolen Tuesday evening but was stymied because technically she does not own the dress.
Offered Los Angeles County Sheriff's Department Officer John Mitchell: 'We got a call at about 11:30 last night from someone at the London Hotel about a high value dress that was stolen from a hotel room.'
Confounding matters are claims the 31 year old actress had a large entourage with her at the prestigious London Hotel where she was staying.
The actress would claim that many of the entourage had access to keycards granting them access to her room.
Why or how the entourage came to be granted access to the actresses room is not necessarily understood.
Cops believe the $150K pearl Oscar gown may have been stolen between 8 a.m. and 9:30 p.m. Tuesday whilst the actress was said to be out of the room.
Volunteered a police spokesperson: 'We are looking at every scenario; when the cleaners go to clean the rooms they do it with the door open so that's a possibility,'
'Currently we are still investigating, detectives are interviewing and looking for witnesses.'
Authorities would note that there was no forced entry and that nothing else had been taken from the room. Adding that they have since begun checking key-card data to determine who had access to the room during the window that the dress purportedly went missing.
It was unclear if the dress was insured.
Calvin Klein has declined to publicly comment on the matter. Can you guess why?