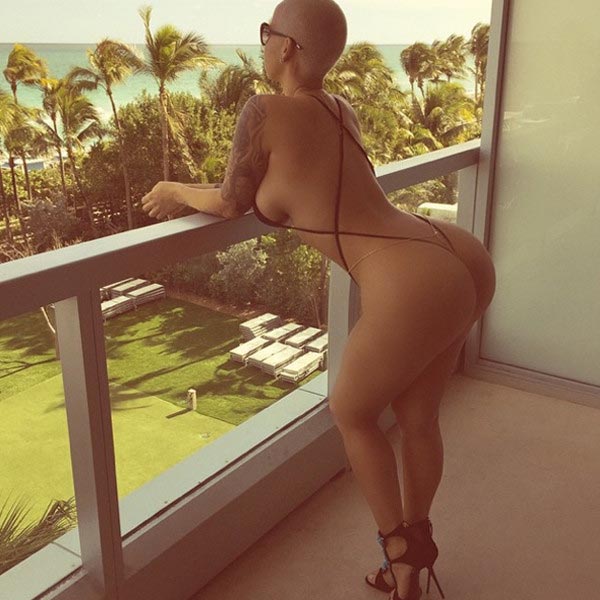 Not content to be known for her shaved bald head and singing prowess, Amber Rose did the next big thing to remind the world she is uber relevant and hawt when the voluptuous singer, actress, artiste at large took to posting a rather indelible set of images of her in a one piece string bikini on instagram.
Amber Rose posts new NSFW pictures, slams her haters.
Narrowly avoiding a wardrobe malfunction the singer casually graced her holiday balcony in all her splendor as she had the camera boy torpedo load pictures of her sensuous self.
The latest postings come after the unabashed mother of one and rampant twerker shared photos last week of herself lying down and displaying cleavage from what she called her 36H-cup-sized chest.
'Can't take a selfie without my boobs getting in the way,' she said. '36H's (Natural) have a mind of their own.'
And this is what the internet thought:
If I had a body like that and could carry off a bleached buzz cut like that I would probably be doing the same thing. It's her body, not breaking any laws so leave her to it. Too many people think their opinions matter, they wanna shoot down a woman with confidence.
Now this is a beautiful woman. I have no idea what Kim Kardashian is.
If I was Amber Rose, I'd NEVER wear clothes in the house. Never. You gon look at THIS, sir.
Amber Rose did this for us.. she trying to push us to keep all those New Year's Resolutions and body goals. She's for the people
Dat a$$!!