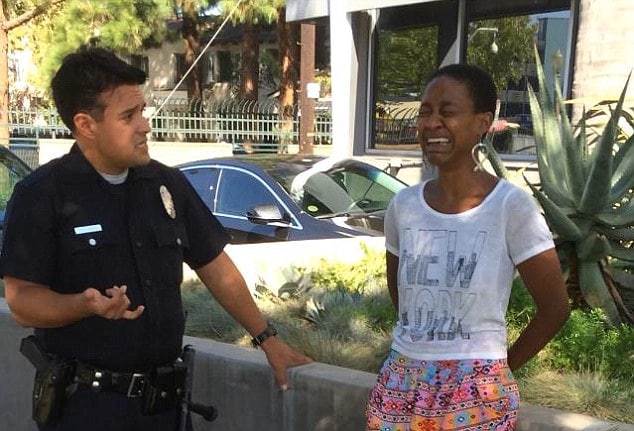 The LAPD may  be looking for some smart answers since Daniele Watts, an African-American actress who played Coco in Django Unchained and appears as Martin Lawrence's daughter on FX's Partners has told she was handcuffed and detained on Thursday by cops in Los Angeles who suspected her of being a prostitute.
According to Watts, she was approached by two police officers after kissing her husband Brian James Lucas, who is white, in public. Watts was reportedly asked to show ID and, when she refused, she was handcuffed and placed in the back of a police car. The actress would be released after cops came to find out who she was.
Writing about the humiliating incident on Facebook, the actress told:
Today I was handcuffed and detained by 2 police officers from the Studio City Police Department after refusing to agree that I had done something wrong by showing affection, fully clothed, in a public place.
When the officer arrived, I was standing on the sidewalk by a tree. I was talking to my father on my cell phone. I knew that I had done nothing wrong, that I wasn't harming anyone, so I walked away.
A few minutes later, I was still talking to my dad when 2 different police officers accosted me and forced me into handcuffs.
Lucas would back up his wife's account in his own Facebook post:
From the questions that he asked me as D was already on her phone with her dad, I could tell that whoever called on us (including the officers), saw a tatted RAWKer white boy and a hot bootie shorted black girl and thought we were a HO (prostitute) & a TRICK (client).
Daniele Watts and Lucas also posted several photos of the incident, including a photo of an injury Watts sustained while being handcuffed.
Variety reached out to an LAPD public information officer who said, because Watts wasn't arrested or brought to the station, there was no record of the incident.
Not a record of the incident but a diatribe of the national experience for over four centuries and still counting.
And here are some comments floating on the web that made me wonder:
Obviously it seems that kissing whilst black is now a crime too. I think it's a sad state of affairs where a mixed race couple can't show affection to each other in public in case the black member of the relationship is arrested.
The US police need sensitivity training. Its disgraceful how they act towards minorities. Most cops in the US are uneducated. Just gone through the process of collecting credits to scrape through high school.
yes it's easier to turn over your ID. But don't you just want to say FUCK YOU because they don't have any reason to "suspect" anything in the first place?
Why should she have shown ID for kissing her husband? Your comment blames the victim though I'm not sure it's your intent. We shouldn't focus on why she didn't show ID but why law enforcement has the right to harass citizens who aren't breaking laws. There is no way they had evidence she was a prostitute.