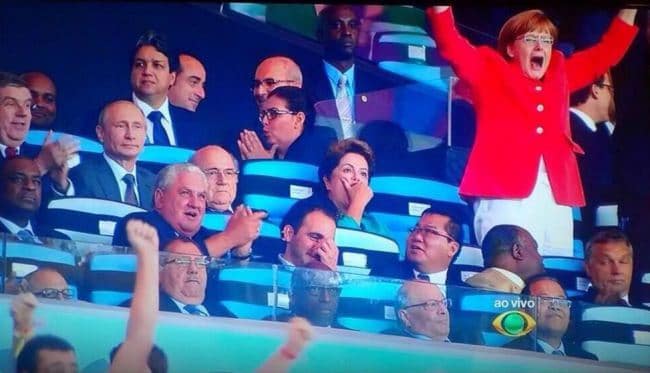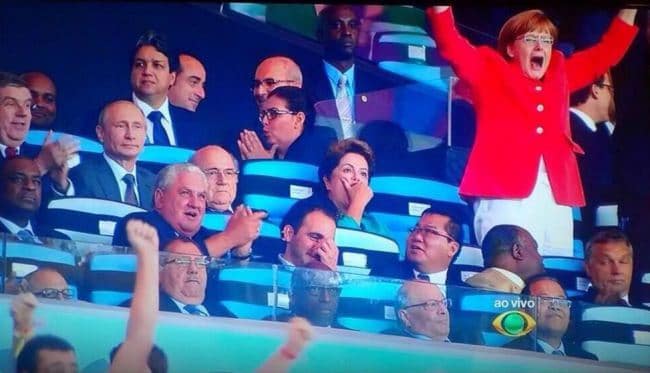 There to congratulate her fellow countrymen and share in Germany's World Cup adulation was German Chancellor Angela Merkel who being the savvy politician that she is hardly resisted the temptation to show her delight and willingness to appear in winning team pictures.
Pictures: Germany 7:1 win over Brazil. Re defining national identities
There at the winner's podium to greet the victorious German team who had just defeated Argentina 1:0 after a gallant 'team' performance, the German Chancellor dressed in a diminutive orange cardigan and white slacks was once again seen in the German team locker rooms celebrating and proudly grinning for the cameras. And why not? Who would could miss out on such a golden public relations opportunity?
In turn not one to miss a golden opportunity either, German team mate, Sami Khedira posted a selfie featuring Angela Merkel on Instagram.
Wrote Khedira: 'Best selfie ever!! World Champion 2014 Thank you Mrs Angela Merkel.'
Pursuant to the game, pictures of Angela Merkel posing with the team came to be tweeted out thousands of times by fans, some with the message: 'Our twelfth man is a woman.'
Which is to say Angela Merkel wasn't going to let the home team win come and go without her. Then again she did play the indelible role of the team's most high profile genuine stalwart fan and too boot was quite the chic politician in the process.
What though remains to be seen is if the savvy politician will able to translate her World Cup love affair with the public in general after new allegations that German government officials were spying for the US as well as reports by Der Spiegel magazine that she plans to step down as chancellor.
Which is to suggest that Angela Merkel may well be playing at an all together higher level than the World Cup and yesterday's affairs were a welcome relief and distraction in what lies in the weeks ahead. At least she can thank the German soccer team for giving her much needed sustenance. Sustenance that one assumes the whole nation has eagerly been anticipating and desiring in the wake of ever persistent national angst despite their more than obvious display of world superiority and dominance…