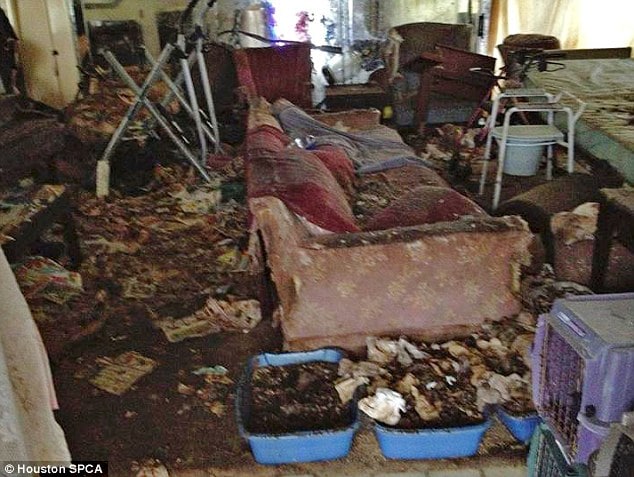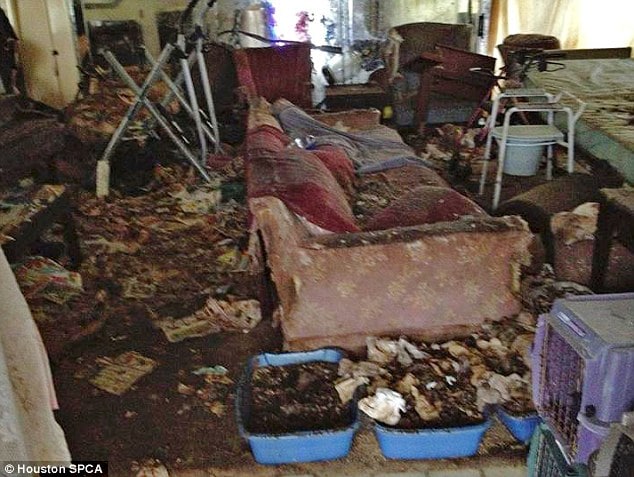 Animal welfare officers and cops were forced to wear gas masks as they removed more than 130 cats form the Houston home of 60 year old twin sisters yesterday.
Upon retrieving the cats, some of whom were burrowed into 4 ft high mounds of feces, authorities reiterated that the sister's home was deplorable and an overwhelming stench of ammonia. They also told how they came across one decomposing cat in the bathroom.
Authorities came upon the twin sister's home after an individual alerted authorities that the sisters had been hoarding cats at the home where the sisters, whom have not been named, lived.
Told Harris County police spokesperson J C Mosier: 'There's not one square inch of clean area in the house,'
'I've never seen the inside of a house look like this,. Never in my life. And I thought I'd seen a lot of things until I saw this today.'
Although there were few signs from the outside that things were untoward, from the inside, Mosier told how every surface in the house was covered with waste from the cats, many of whom were emaciated and who had hair loss and eye and nose problems.
'They have burrowed into the mounds of feces like a rat would make a tunnel into a hill,' Mosier told KHOU 11.
Houston SPCA will be given medical treatment to the cats, before finding them secure homes.
'We're going to work and make sure they get into loving homes. We're going to work with our adoption partners or even place them in reputable sanctuaries,' Meera Nandlal, of SPCA, said.
Officers told that they had to spend hours persuading the women to leave. One of the sisters is thought to be severely ill with cancer and was taken by ambulance to hospital.
Reiterated Mosier: 'I don't know that they'll ever be able to totally recover from what's happened to their house. But I hope there are people who can help us help these ladies. It's such a sad situation.'
Some on the web have speculated mental illnesses and loneliness and a reluctance to seek human contact led to the women hoarding the cats until things got out of control.
No charges are expected to be brought against the women.