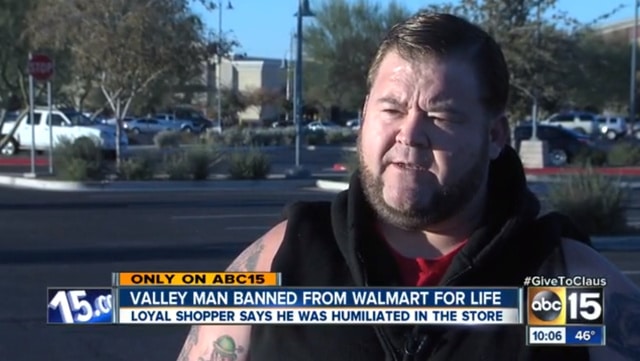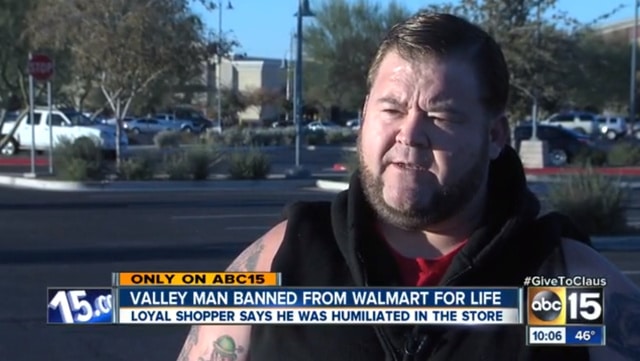 Walmart has decided to ban Joe Cantrell for life, at every store on the planet cause they reckon the Arizona native took advantage of the store's price-matching policy one too many times.
Walmart prides itself on its promise to match the lowest price of any item in the store if a customer finds it being sold for less somewhere else.
But Joe Cantrell says he wound up in handcuffs for trying to ad match ornaments for his family's Christmas tree.
A disabled former pro wrestler, Joe Cantrell doesn't make a lot, so he has to watch where and how he spends his money.
It's for this reason, that Joe Cantrell started flipping through circulars in an effort to find cheap items he could price match at his local Walmart.
Which is how his latest adventure in misery began.
At the time, Joe Cantrell was on one of his twice-daily visits to the San Tan Valley Walmart (yes kids, Joe is an avid fan)  — "I just love Walmart and that's why I go," he told KNXV — when a store employee  went on to reject his ad match.
Hey what gives Walmart?
Joe went on to complain to store management and was on his way out when the store employee decided to phone the Pinal County Sheriff's Office to report that he was being intimidated.
Kids, something nasty is about to happen. Can anyone guess why
"I was upset, but never once did I say anything to the gentleman," Cantrell insists.
Returning to the store four days later, Joe Cantrell encountered three deputies (here we go kids) who promptly handcuffed him before handing him a court summons and a notice informing him he was banned from Walmart for life.
At the time, Joe caused a scene and cops agreed to let him go, but his ass is still required to appear in court to face charges of threatening, intimidation and disorderly conduct.
And his Walmart perma-ban remains in place as well.
Walmart declined ABC15's request for comment.
Update via gawker: Walmart spokeswoman Brooke Buchanan told Gawker the company banned Cantrell for life after he allegedly "threatened the associate's life" and wrote a Facebook post indicating he would "kick the associate's butt."
Buchanan declined to provide documentation to back up these claims, citing the "ongoing investigation." However, she did provide Gawker with the following statement:
This situation was about the safety of our associate and not our ad match policy. We make every effort to make sure our customers have a good experience in our stores. Unfortunately, in this situation, our associate felt threatened and local law enforcement was contacted. We are continuing to cooperate with law enforcement on their investigation.
Buchanan noted that it was the associate who was pressing charges against Cantrell, not Walmart.
We've reached out to the Pinal County Sheriff's Office for comment, but have yet to hear back.
And then there was this comment from a reader that got me thinking too:
I'm not even sure how the hell anyone can accuse someone of "abusing" a system that is supposedly part of your policy. If you don't want to price match don't advertise that you do. If you advertise that you price match then someone should be able to show up every damn day with a circular with prices to match. The "associate" had no business denying the price match. He should have matched the price and kept it moving. Why does someone making what a quarter over minimum wage (if that) care if someone pays their employer a little less for an item because of the price match. WTF? Walmart is not going to give you a raise because you stopped someone from using the damn price match.
As to the intimation charge I don't know what to say to that. It sounds like bullshit to me.