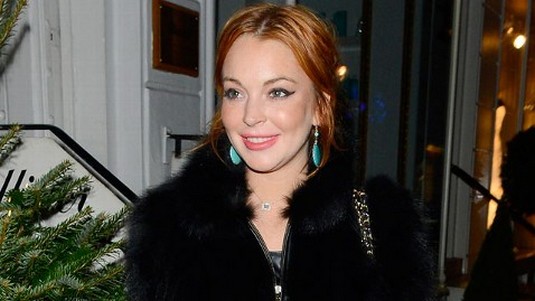 Lindsay Lohan would like to remind you that it's her way or the highway…
Sad news once again from the 'I don't know why the world just doesn't cut me some slack' Lindsay Lohan combustible media machine as radaronline is reporting this morning that our collective hero had planned to pass of Elizabeth Taylor's diamond bracelet with a fake one.
Reveals a source to Radaronline: "Lindsay had taken the bracelet that was owned by Taylor – and left to her long-time nurse after she died – without the nurse's knowledge or permission, to a jeweler. Lindsay wanted the jeweler to reproduce a fake replica of the bracelet and she planned on giving that one back to the nurse."
Kids can this possibly be true? Our Lilo back to her shady shenanigans? Tell me it was just another 'misunderstanding?' Tell me it was just Lilo in momentarily relapse contemplating a brighter future for herself when she suddenly caught a glimpse of herself against a stained mirror glass egging her on to new self debacle. But then again what's the song? Everything she wants is everything she gets…?
Continues the source: "Lindsay planned on keeping the original and bragged to friends about her brilliant plan. However, the plan was thwarted when the nurse demanded that Lindsay return the treasured piece, or she was going to the cops. One of Lindsay's minions returned the bracelet shortly thereafter."
Radar go on to describe how the nurse had initially given our collective hero the benefit of doubt but something didn't seem to feel right after calls for the jewel's return went unheeded.
1800 LINDSAY LOHAN EVERYTHING I WANT IS EVERYTHING I TAKE….