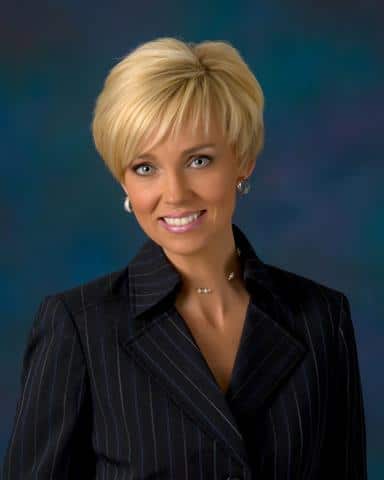 Fox would like to let you know it doesn't really care whether they hurt your feelings, it's good for the ratings if you're offended anyway….
She nearly got away with it but in the end she didn't. Well actually she did.
Huffpo gives us the backstory:
After pressure from the Gay & Lesbian Alliance Against Defamation (GLAAD), a Fox affiliate anchor has issued an apology for calling MSNBC host and liberal commentator Rachel Maddow an "angry young man."
Tricia Macke, a reporter with Fox 19 Cincinnati, posted "Rachel Maddow is an angry young man," on her Facebook page last month, according to GLAAD. Despite receiving criticism, Macke defended herself, responding, "You are right. I'm sorry, I should've said 'antagonistic,'" and "I knew what I was saying."
Antagonistic? Hmm. Did Tricia mention she works for Fox and is one day aspiring to head up its entire contents division? Which is a good thing cause she's blonde, always assertive when she needs to be and very opinionated, which ought to please us all. Or maybe not?
Nevertheless GLAAD got into the action and called Tricia out, basically saying something to the effect that she was denigrating journalism, not that upper ups at Fox were probably grinning. Anyway that grin was soon wiped off their faces after GLAAD pressed their case, pointing out that Tricia "owed an apology not only to viewers, but to young people in Ohio who are subjected to unfair bullying and harassment like this on a daily basis."
This led to Tricia then issuing a fake apology via Fox 19's Facebook page and having her ass suspended:
I recently posted comments on my personal Facebook page regarding cable news anchor Rachel Maddow which were insensitive and inappropriate. I apologize to Ms. Maddow and any others who may have been offended by my comments, as they do not reflect my firm beliefs in individual and equal rights, and they certainly do not represent the opinions or position of my employer WXIX-TV.
And the good news? Tricia will be back on the airwaves tonight  (I know long lived suspensions suck right?) where she'll be silently seething and staring back at all you media heads in NYC where she will eventually come and replace you all. At least to Tricia's credit she looks like a real lady, something that she probably wished Rachel Maddow looked like all along, that way she'd feel better about all them obstinate media people that Tricia has resigned herself to having to do a delicate dance around.
Tricia will be winking at all you fags tonight….