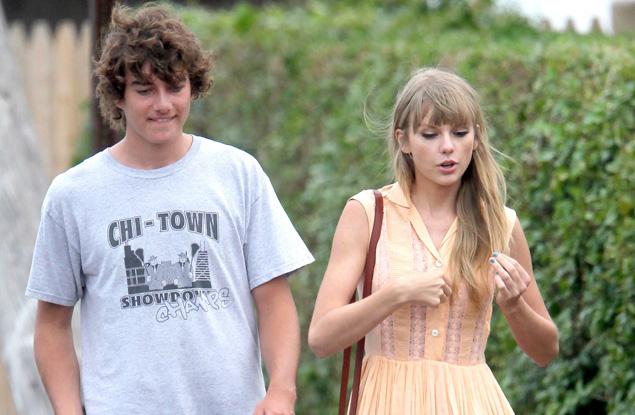 Oh look! Taylor Swift and Conor Kennedy now canoodle on the beach….
By the angst of her love songs we all know Taylor Swift  falls hard, however who knew she'd fall so fast and become so quickly involved with Conor Kennedy, the son of Robert F. Kennedy Jr. and the late Mary Richardson Kennedy.
It has been reported that Taylor, alongside Conor (her boyfriend of two months) and members of his immediate family, visited Mary's grave on Monday. The death of Conor's mother must be incredibly fresh since she committed suicide by hanging herself in a Westchester, New York barn only in May, and one would only assume that extremely close friends and family members would participate in such a painful and emotional gathering.
nydailynews: Wearing Ray-Ban sunglasses, slip-on leather loafers and a pleated, short-sleeved dress bursting with a pattern of spring flowers, Swift held Conor's hand and caressed him. At one point, the singer and the grieving group appeared to bow their heads in prayer.
This summer romance has indeed quickly sprouted into a very serious relationship, consisting of public displays of not only affection but of support as well. Taylor even attended the wedding of Conor's cousin, Kyle Kennedy, this past weekend, and has also purchased a $5  million beach home near Ethel Kennedy's home…who just so happens to be Conor's grandmother.
I don't know guys…this one hits a little too close to home to be a publicity stunt. Maybe Taylor really has fallen past the point of return and will join her buddy Miley Cyrus as yet another young fiancé in Hollywood.