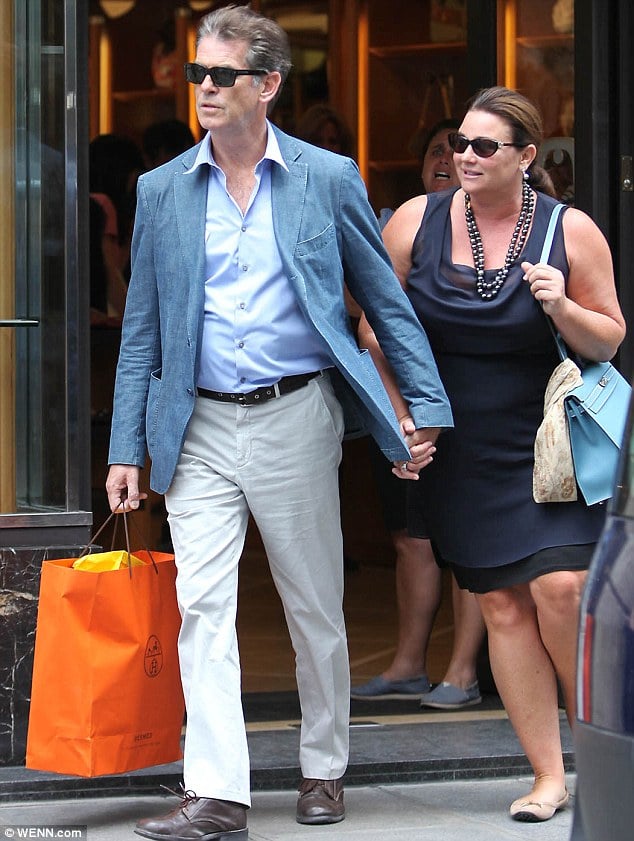 Pierce Brosnan is also a preferred hawt bixch too…
He may be a Hollywood heart throb, but actor Pierce Brosnan certainly knows where his allegiance lies to, that of his wife of eleven years, Keely Shaye Smith.
As the pictures show the couple who were gallivanting in Paris, France are very much in love and certainly a couple to be reckoned with. With Pierce in the mood to treat Keely to some spoils the notoriously dashing actor hardly hesitated as he took her about town to pick up some designer yummies.
First stop had the due visiting Hermes where upon the couple were later seen leaving the store with a large signature shopping bag brimming with goodies. Hawt bixch.
Notes the dailymail (where you can find more pictures) the actor is seen lovingly putting his arm around his wife as they walked with Keely amiably leaning in towards him. But then again if the world can't resist an action hero like Pierce whose played James Bond on screen who are we to judge Keely for wanting a piece of the pie herself? Then again she probably has the biggest slice hoarded away in her love chest.
Currently in Paris shooting his latest film alongside Emma Thompson, in the romantic comedy 'Love Punch,' the actor has been able to squeeze some time in to also take the couple's two sons, Dylan and Paris on walkabouts. Something you would hardly expect James Bond to do in any action flick. Then again Pierce is his own hero and legend, just ask his wife Keely….