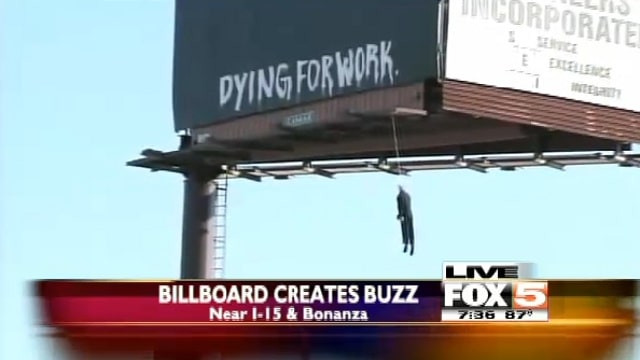 Seems there's no better way to get the attention of your fellow man than to toss a rope over your neck and jump over a raised billboard into the abyss. Of course that might be a too definitive statement, so in the interim you will use a dummy dressed in a business man suit to get the same point across home. Never mind the startled drivers driving along Las Vegas interstate 15 with their hearts in their mouth….
Lamar Advertising, which owns the ad space, said the billboard had been hijacked.
Nevada Highway Patrol said there were currently no suspects, but any investigation of the billboard stunt will be handled by Las Vegas Metro police.
Let's hope that our out of work suspect will eventually ended up getting themselves a job offer (once of course they make the effort to boast about this stunt later tonight) after this latest stunt. Anyone need a new head of guerilla marketing anyone?