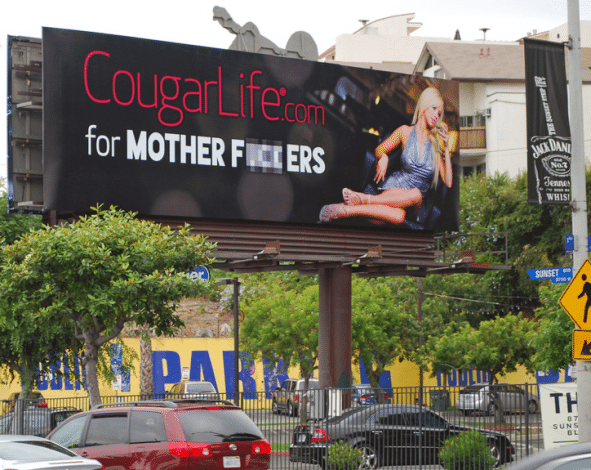 Are you a mother fucker?
In a bid to pair up aging women (ie cougars) with hawt young bixches (studs who can use the cash no doubt) Cougar Life a dating website for women aged between 35-65 (hmm, I wonder how a women south of 45 would feel about being termed a cougar?) has 'erected' (pun intended) a billboard sign in that part of Los Angeles where it is said there are 'more cougars per capita in any other zip code.' Well at least that's according to Cindy Rocker who happens to be the site's head of cougar relations (yes cougar relations).
Supposedly the billboard is suppose to be risque or some shit like that but then again I call everyone a mother fucker. Then again there's a special pun about mother fucker here too, cause if you're the hawt bixch cougar ends up landing it's more than likely she's a mother and hence the part about her being called a mother fucker.
Aren't you glad that some cougar relations experts have the balls to go where so few us dare go?