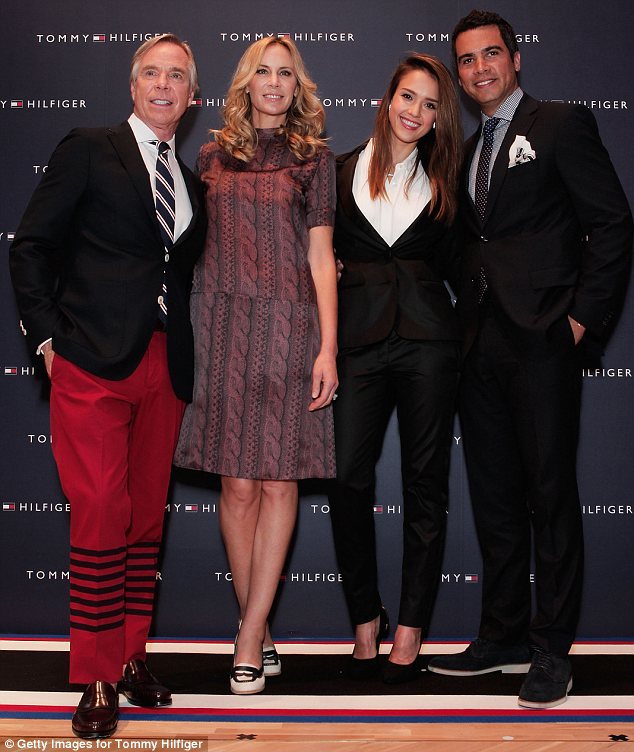 Tommy Hilfiger dress sense leaves very little to be desired.
Call it going straight to his head or just a vivid imagination  (I prefer the former) but NY fashion designer, Tommy Hilfiger was seen dressed in what could arguably be described as a fashion faux pas as he donned 'unique' red dress trousers with horizontal bands running beneath the knee whilst wearing a pair of fetching burgundy loafers sans socks as he and notable guests came along to celebrate the opening of his new flagship store in Tokyo, Japan. Quite the fetching look some might think or not.
Says the dailymail: Posing for photographs with celebrity guest Jessica Alba as well as her husband Cash Warren, the designer stuck out like a sore thumb amid a room full of on-trend fashionable types.
But that's our Tommy always sticking out like a sore thumb and reminding you that acquiring Tommy Hilfiger clothing isn't always about the clothing itself but let's just say the attitude itself.
It is not clear whether or not the trousers will be sold throughout the new Harajuku store's three levels worth of sportswear, runway and denim clothing items.
The 11,000-square-foot store is impressive, however, located at the intersection of two of the city's busiest streets.
Never mind, busy or not, Tommy knows how to have himself a swell time and really who can begrudge the hawt bixch?