Tuesday night saw a who's who in the fashion industry as fashionistas and socialites gathered at NY's Meatpacking district at the Theory store to lend a hand to Anna Wintour's overtures towards getting Barack Obama re-elected for the 'Runway to win,' campaign. To date VOGUE's editor in chief is considered one of the top " Obama Money Bundlers". There to co host with the editrix was lovely civilian dater Scarlett Johansson.
The outing saw guests(see below for a hint of who attended) pay $250 for the opportunity to hobnob and raise funds for Ms Wintour's campaign as well as the opportunity to buy designer inspired Obama t-shirts,totes,bracelets and other accessories which retailed up to $95, with all proceeds being raised going towards the presidents re election campaign.
Some of the 20 participating designers included the following:
Marc Jacobs, Alexander Wang, Rachel Roy, Jason Wu, Narcisco Rodriguez, Diane Von Fursentenberg, and Tracey Reese ( many of these you might recognize as designers who are already faves of the first lady). Guests included, but were not limited to: Karolina Kurkova, Karlie Kloss, Tory Burch, and Solange Knowles, as well as Obama's campaign manager, Jim Messina.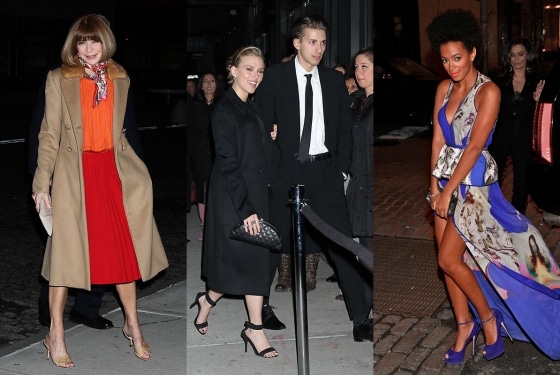 Present at the event was Obama's former aide Reggie Love who casually reflected the President taught him everything he knows about tying a tie:
"I will tell you, the guy taught me how to tie a very  professional knot," he said, pointing to his tie. "It's not the knot, it's the dimple."
Deflecting the Republican National Convention's allegations that the fund raiser may have violated campaign financing rules, Scarlett Johansson laughed off  the RNC's video (yes kids, they even went so far as to make a video about it- see below) denouncing Runway to Win as "ritzy":
Said the glamorous co host:
"They are so totally unfashionable!" But seriously, Rick Santorum? and "I mean, sweater vests are, I guess, charming for family photos and dinner with the grandparents … But I think you wear a sweater vest ironically, right? Just go to the Lower East Side!" 
And Scarjo's  thoughts on politics: "I understand that people are upset, they want change and they want it now. And change takes time. Not only does it take time, but people have to be active, you have to participate."
To date the amount of money raised remains undisclosed. Interestingly enough people did notice that Ms. Wintour was wearing the same orange top she wore to a Knicks game last week. Oh well…
Runway to Win items will soon be available on vogue.com