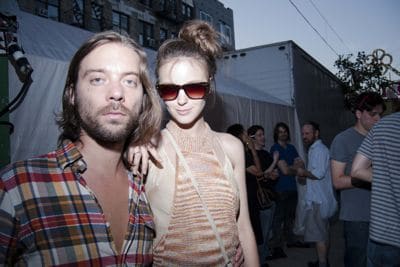 Late Sunday afternoon saw the boisterous but unbelievably cool and hipper than thou hipster set congregate at the newly launched Manetamed Gallery. For those of you who've yet to make the trek over, one could describe it as a cross between getting your hair done (in an old world barber set of course- cause irony works so well in this part of the world) while a dj spins electro house next to you and the parading walls are lined with who's who of up and coming artists and the odd (purposely) slow kicked video.
The combined vision of Magda Magdalena and her curator arm, Aussie feline (well they're both feline if you ask me) – Emerald Fitzgerald, the duo aim to improvise a free for all spirit with a certain quotient of cool and photogenic clientele ambling to and fro.
That said if these pictures are any indication there were rock bands, electro ballad singers (you can thank Ryan James for that), deep house and a sexy quota of hipper than thou locals who put aside irony for a while and reveled over the course over the next few hours.
Pictures and article continue until page 3.