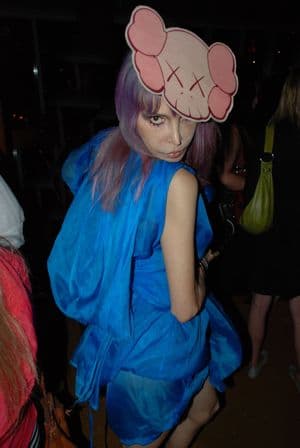 Last night saw a motley crew within the arts, fashion and society congregate at the Standard Hotel's Boom Boom room to pay homage to the newest addition at the Standard; the exhibition of Kaw's Companion(Passing Through).
As the tip sheet says so succintly, The artist's subversive body of work, which has permeated every channel of today's communication, blurs the boundaries between the seemingly disparate disciplines of street art, commercial images and products, and Pop art.
A signature of the pop culture that currently permeates modern culture, Kaw's sculpture plays at the iconic symbolization that so many of us readily identify one. And with a 16 foot mickey mouse look alike figure heralding the facade the building one can't help be charmed. Of interest is the cartoon character sits with its gloved hands covering its face- a far juxtaposition of some of the characters upstairs who were only too happy to reveal their faces for the camera. But such it seems is modern culture.
ps- much love to Hennesy for keeping us all sufficiently lubricated, if you know what  I mean- oh well…