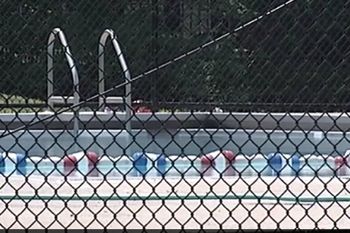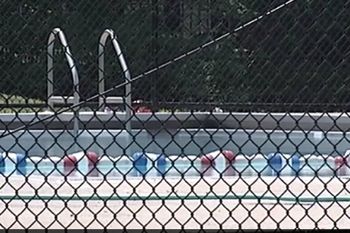 Police in Fall River, MA have pulled a woman's body out of Veteran's Memorial Pool late Tuesday night.  Investigators today are concluding that the woman, Marie Joseph, had drowned in the pool Sunday afternoon. Which is to say that for a period of 2-3 days, people had been unwittingly swimming in a public pool with a dead body at the bottom of it.
NBC 10 Toronto: Lifeguards were on duty throughout the day on Sunday, Monday and Tuesday, yet police said no one saw the body.
Friends of Joseph told NBC 10 they went to the park with her at around 2 p.m. on Sunday, but left without her.
Left without her because….
Joseph was watching a neighbor's 9-year-old boy as he went down a waterslide at the pool. Police said she somehow fell down the slide herself, went underwater, and drowned.
"The boy stated that once he was in the water after coming down the slide, Marie unexpectedly slid down the slide landing on top of him. He further stated that she went under the water and did not surface," said Chief Daniel Racine of the Fall River Police Department.
What makes this situation particularly disturbing is the fact, that after Joseph didn't resurface from the pool, the 9 year old boy went to get the attention of the lifeguard who chose instead to ignore him. But equally bizarre was the following:
None of Joseph's friends reported that she was missing, police said.
What makes this even more bizarre and ridiculous- is the fact if Joseph was indeed deceased, wouldn't she had been floating at the top of the pool in the full view of users and lifeguard. Surely one can not mistake someone floating listlessly as someone in serious need of assistance. Even in a packed pool. Or can they? And if we are to believe the mantra that most pools are cleaned periodically throughout the day (apparently not at the Veteran's Pool it seems) how is it that once again staff missed the dead body?
"By 5:30 p.m. (Wednesday) all 30 of DCR's deepwater pools will be closed while we conduct a full review of each facility's safety and operational procedures over the next 24 to 48 hours. As of this hour, the entire staff of the Veteran's Memorial Swimming Pool in Fall River has been placed on administrative leave.
Isn't it about time you put on your swimmers and headed out for a mid afternoon swim too…?