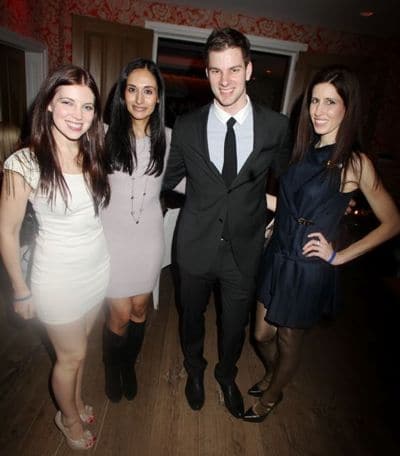 Friday night saw a sprightly crew attend ACE's spring soiree. ACE- as run by Henry Buhl, ACE aims to get the homeless off to a running stand- as Henry Buhl once noted- why feed a man a fish when you can teach him how to fish? Indeed. A lovely evening, and a special thanks to Ricardo Garcia, committee member for taking the time to point out all the beautiful people in the room…
Friday night saw hosts Barbara Duerrer, Tim Morehouse and Hana Nitsche greet guests. Guests and committee members included Nathaniel Baker, Alexandra Buhl, Monica Eulitz, Sarah Feil, Danny Fontana, Ricardo Garcia, Irene Hong, Andrew Hurewitz, Julie Kwak, Menka Lamba, Vaughn Massey, Joshua Minsky, Alisa Ng, Steven Nicholson, Eleanor Robb, Kathleen Ryan, and Sandra Sanches.
Additonal links:
WITH HELP, HENRY BUHL PUTS SOHO ON THE MAP.
CHARITY BASH AT RDV WAS THE ACE UP HENRY'S SLEEVE.