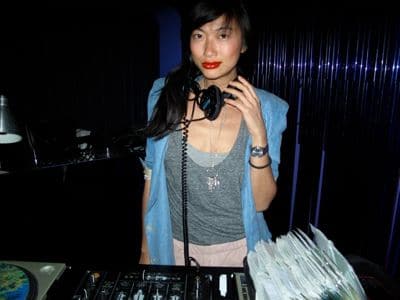 In the event you are into hot electro music let us introduce to you Dj Misty Rabbit (Mimi Xu)
Paris' resident enfant terrible. Trekking over to LA's Hollywood Standard hotel where she played the Purple lounge- she wowed the kids (or did they wow her?).
That said- here's a little blurb about her below, and watch out for our full feature with Misty Rabbit. If only we could put her music away…
Regarded as a rising influence across Europe for her savvy knack of merging fashion and music world's alike, her resume reads like a veritable fashion calendar with clients including Colette, Kitsune, John Galliano, adidas, Acne, Miu Miu, Roberto Cavalli, Alexander McQueen and Dior Homme.
Most recently she DJ'ed at the Prada store opening in Berlin and played as support for Hercules & Love Affair. Following her visit to LA will be returning to Paris where she is set to play alongside Beth Ditto at an event hosted at the Grande Halle de la Villette.
Enjoy the music below and the pix which continue next page.