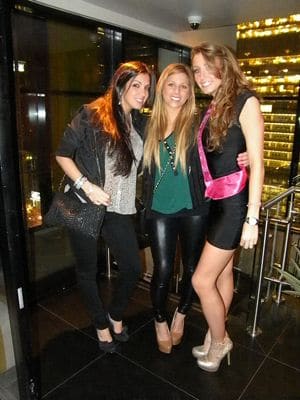 Moonlit towers, and skyscraping views—Skyroom, a 33rdstory rooftop penthouse, is Manhattan's best kept secret. Featuring full circumspect panoramic views, from multiple-furnished spaces, ivory chic-cabanas and lounge areas, the new venture has been swept up on Friday nights, 10pm-4am, by Prive Event Planning. Sisi Designs has most recently showcased her work, here.
Founded by businessman Sanjay LaForest and DJ Francis Mercier four years ago, the two cousins–certainly no strangers to the industry–have hosted fashion-oriented events at the most exclusive Manhattan venues. Acquiring the likes of celebrities Swiss Beatz, Richie Rich, Kid Cudi, Katherine Copperfield, Derek Jeter—they, with the help of Marion Reffas, have secured the upscale Zen-like oasis.
The private south terrace, and retractable north one—as well as the Cube balcony and submerged, indoor lounge host lovely service staff, whose cotton candy pink ensembles complement the blonde models and heat lamps. Dance music, with flair of 'open format' hits, keeps the crowds dancing all night against a spectrum of skyscrapers and color: The Empire State, the New Yorker,  and more.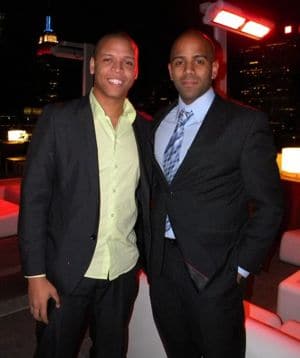 The DJ booth, nestled in a crevice, marked with oversized floor to ceiling windows, draws a most eclectic crowd. The door is extremely strict, but well worth the views, ambiance and vocal house, notes Sanjay:
"The staff is great, starting with the managers down to the bar-backs- they are extremely accommodating and professional. It is one of NYC's gems and it is a pleasure working with their GM's Peggy Milard andThierry Pomies who are definitely no rookies in the industry. I firmly believe it is one of the nicest venues in NYC."
The parties will continue on through the summer, during which time Francis will hold a residency that will be including guest sets and performances, from world renowned dance music DJ's, producers and artists.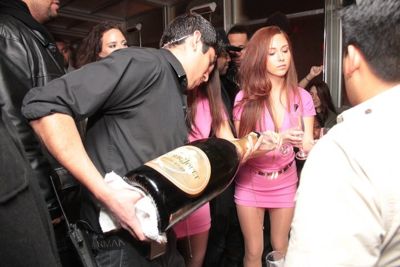 "For an event or party to be successful there are many marketing and planning aspects that take place beforehand that you can only imagine… I live on my phone, ipad and laptop 24 hours a day. Everyone always sees the end product but they never see what is behind the curtains." -Sanjay
Having planned Duroseau Fashion show, an Esquire Magazine Party, the WMC Pool Party at Delano Hotel and more—Prive promises a night of social exactitude, couture living, and visual stimulus. Located well above sea level, is your next Friday night destination: The Skyroom.
For more information, and to stay up to date with Prive's bookings and events, see NYCPrive.com.