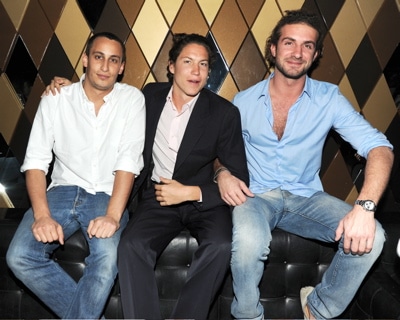 Article courtesy of Ursula Damani courtesy of Nadine Johnson Pr.
December 3rd, 2010 – Miami, FL – Last night, Thursday, December 2nd, Vito Schnabel, Alex Dellal, Stavros Niarchos hosted, in collaboration with Dom Pérignon, an after party at Wall following an intimate dinner hosted by Aby Rosen at Soleá.
Dinner guests, including Larry Gagosian, Roman Alonso, Eleanor Acquavella & Morgan Dejoux, Andre Balazs, Yves Behar, Maria & William Bell, Nicolas Berggruen, Tory Burch, Tom Campbell, Ginevera Caltagirone, Lady Liliana Cavandish, Lyor Cohen, Steve Cohen, Eva & Michael Chow, Rafael de Cárdenas & Amy Greenspon, Beth Rudin de Woody, Michele Oka Doner, Brandon Davis, Lisa & Eric Eisner, Lourdes & Jose Pepe Fanjul, Jr., HRH Princess Firyal of Jordan, Dana Hammond, Susan & Michael Hess, Nicky Hilton, Jane Holzer, Rachel Barrett, Jay Jopling, Calvin Klein, Lorenzo Martone, Ryan McGinness & Trish Goodwin, Jeanne Greenberg-Rohaytn, Edward & Julie Minskoff, Robert Mnuchin, Alberto Mugrabi, David Mugrabi,, Daniel Neidich, Jonathan Neidich, Guy Oseary, Michael Ovitz, Rey & Jose Antonio Parla, Stuart Parr, Anne Pasternak, Lisa & David Perry, Caroline & Didier Phitoussi, Jean Pigozzi, Kadee Robbins, Alex Rodriguez (ARod), Mera & Donal Rubell, Michelle & Jason Rubell, Allison Sarofim, Olympia Scarry, Mr. & Mrs. Bob Shaye, Mike Starn, Carole & Remi Tessier, Blaine Trump, Neville Wakefield, Micky Wolfson, Dasha Zhukova, Carlos de Souza, Ricky Clifton, Adam Lippes, Sante D'Oratzio, Alan Finklestein, Inga Rubenstein, Glen O'Brian & Gina Nanni, Roman Alonso, and Marco Brambilla, joined Schnabel, Dellal, Niarchos and after party guests, which included Alber Elbaz, Susan Sarandon, Sean Penn, Naomi Campbell, Bob Colleco, Kelly Bensimon, Yves Behar, Nicolas Berggruen, China Chow, Maximillian Chow, Mr. Brianwash, Yigal Azouel, Diego Garcia, Tierney Gearon, Konstantin Grcic, Jessica Hart, Jamison Earnest, Hanna Liden, Nate Lowman, Anouck Lepere, Sam Orlofsky, Tomas Maier & Andrew Preston, Jose Antonio Parla, John Pawson, Emmanuel Perrotin, Kadee Robbins, Aurel Schmidt, Mortimer Sackler, Wendy Stark, PC Valmorbida, Dustin Yellin, Kehinde Wiley, Ramdane Touhami, and Simon Rex to listen to the brilliant music stylings of DJ Nick Cohen and experience Dom Pérignon's highly rated, and just released, 2002 vintage presented in the new limited edition A Tribute to Andy Warhol by Dom Pérignon bottling.