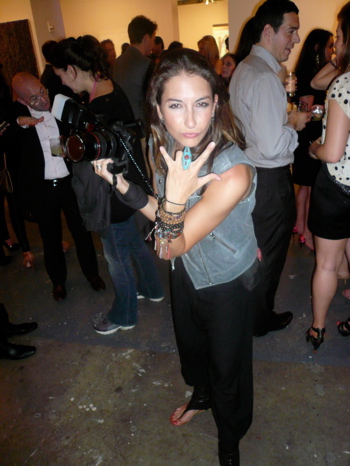 The brand new Active Liberty Institute (A.L.I), in collaboration with the Clinton Global Initiative, this week presented a conversation on art and culture at the Phillips de Pury auction house and art dealership. The theme of the evening was Identities, in relation to A.L.I.'s mission of bringing attention to South Asian issues.
Multiple presenters focused their remarks on the way art exposes and elucidates the difference between the center and periphery of society. There was a degree of unintended irony to these statements. While the speakers made their points to a mostly-attentive group of seated enthusiasts, attendees who were uninterested in the proceedings slowly but steadily abandoned the talk to flit around the halls, drinks in hand. The acoustics of this particular space, unfortunately, were unforgiving.
Certainly no one intended to be rude, but as more and more people lost interest in the talk, the buzz of conversation elsewhere became harder to ignore. Unfortunate, because the panelists, including A.L.I's director Salman Khokhar, were interesting, prepared, and had something to say. I look forward to the next A.L.I. panel, I just hope it is held in a more acoustically favorable space.
Not that Phillips de Pury isn't a great place to have a few cocktails. Floor-to-ceiling windows overlook the High Line park and the Hudson River, and it's amazing how even New Jersey looks nice at sunset. The gallery is currently home to dozens of fascinating pieces, and because it's an auction house the works are labeled with their estimated worth. I often find myself at the Met wondering how much the Roy Lichtenstein or Andy Warhol I'm looking at would cost a private citizen. At Phillips de Pury, I don't have to.
To see more images from Chervine go here.