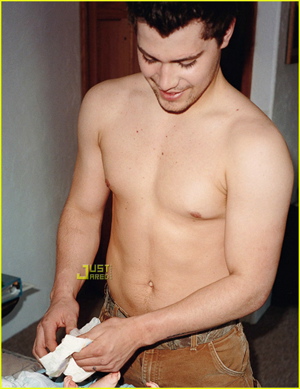 Monkey see, monkey do…
Last week, Sarah Palin, the grandmother to Levi Johnston's daughter un officially won lotto when she announced that she would be signing on to do a reality show in the woods of Alaska. Fearing that he might be undone by that awful witch, Levi went to sleep one night and came up with a brilliant counter idea. He'd pitch to host his own reality show on the other side of the woods. You see when you come from Alaska, good ideas eventually come to you if you just give it time.
Of course like us, you're probably wandering what Levi actually intends to do on his show (it's been rumored that Sarah will take to sitting in English grammar classes and occasionally spear the random porcupine that accidentally finds itself near her hut). Shall we all find out? Why not…
His pitch to cable networks will include positioning Levi as "one of the world's most famous teenagers" and will show parts of his life including "business opportunities, strange offers, appearances and…lots and lots of women."

Business opportunities? If we were Levi we'd keep it to stripping in front of old gay men, back rubs in the locker room, Vogueing at the hottest night club in Anchorage, Alaska and trying his best to become some sort of drug addict or unbelievable mess (like Lilo) that way he can petition for season 2 and for our collective hearts. Of course the occasional out of control lover's/in law quarrel would deeply ingratiate him in the wider culture too.
Don't you wish you wish you could pitch your own reality TV show too?