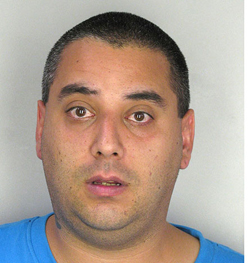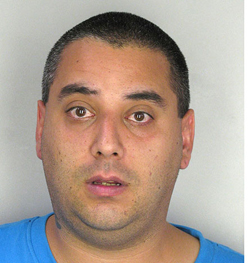 When using a braincell is never an option for Joshua Basso.
Welcome to Joshua Basso's life. In case you have never heard of Joshua, let us introduce him to you. He has been known to start rubbing his dog balls against your favorite sweater, so just ignore him or perhaps opt for a nice big side kick to the head. That in a nutshell should give you a clue as to how lethal Joshua really is and why his hairy ass is currently in jail.
It all started like this, feeling horny and unable to resist the urge to get his daily dose of phone sex session(s), Basso reached for his phone when he realized he had run out of minutes. Magnificently horny and still undeterred, Joshua came up with a brilliant idea (the type that we strongly advise you never try unless in the company of Boss Hog from the Dukes of Hazard) that involved him calling 911 and trying to get it on with the emergency operator.
Alarmed, the operator hung up, but not before Joshua (whose balls were really beginning to fluster) called her back 4 times, because you know, when you get that feeling…
In the end the police dropped by and paid Joshua a little visit, quietly escorting him to a new sex club called Penitentiary.
Asked why he called the emergency operator, Joshua claimed he had no other choice seeing that he had no more minutes left, and as we all know sex is sex no matter how you get it.
D-Listed
Dumb Horny Bitch Of The Day