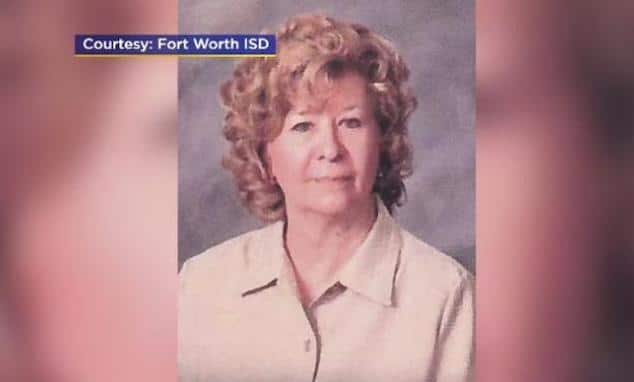 Georgia Clark Texas teacher fired after tweeting to President Trump to remove illegal immigrants from her Fort Worth school.
A Texas high school teacher was fired Tuesday after allegedly urging President Trump in a series of tweets to help remove illegal immigrants from her school.
Georgia Clark, who had worked at the Fort Worth Independent School District more than 20 years, reportedly said she thought the tweets were private.
'Mr. President, Fort Worth Independent School District is loaded with illegal students from Mexico,' Clark allegedly wrote last month from a now-deleted Twitter account. 'Carter-Riverside High School has been taken over by them.  Drug dealers are on our campus and nothing was done to them.'
Adding, 'Anything you can do to remove the illegals from Fort Worth would be greatly appreciated.'
'Texas will not protect whistle blowers. The Mexicans refuse to honor our flag,' Clark allegedly wrote in another post. One of the tweets included her phone number CBS 21 DFW reported. 
Georgia Clark Fort Worth teacher illegal immigrant tweets:
The tweets caused disconcert at Clark's school, which is 1/3 Hispanic, according to the Washington Post. Eight school board members voted unanimously Tuesday to terminate Clark's contract. She has two weeks to appeal to the state and remains on leave with pay in the meantime.
According to a Fort Worth ISD review obtained by The Post, Clark acknowledged that the tweets were hers. The review also indicated that the school district was already investigating Clark for separate allegations that she made remarks about student's ethnicity or immigration status.
And then there were these social media reactions too, see what you think?
Georgia Clark you are an American hero!!! You have my support!!!
Millions of Americans support you too. 👍🏻Trump 🇺🇸2020!!!

— colonel Tufty (@ColonelTufty) June 1, 2019
I'm scrolling through social media and seeing all of these kids, bright eyed and bushy tailed, walking off the stage and off into their futures. I can't help but think how many kids have been negatively effected by teachers like Georgia Clark and whose futures are a little less

— Ashley Schumacher (@Schumacher_The) May 31, 2019
Hey, @KentPScribner, I know FWISD has problems with teacher retention, but you could definitely do better than Georgia Clark. Might I recommend someone with DACA? https://t.co/JBDwskgybG

— Andy Richardson (@andres_en_tx) May 29, 2019
1. Georgia Clark is too cruel to be a teacher.
2. She's also too dumb to be a teacher.
3. Sharing students' personal info is a violation of fed law.
4. Given that this woman had already physically assaulted students, why was she still at @FortWorthISD? https://t.co/AiWG2pXlDI

— lissa townsend rodgers (@lissatrodgers) June 4, 2019