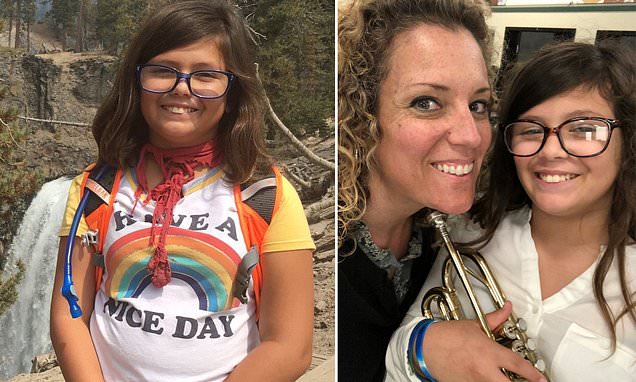 Nelly Pelaez an 11 year old California girl commits suicide following depression after a falling out with a close friend. Kills self days prior to anti-depressant prescription. 
An 11-year-old girl from California killed herself after previously asking her mother to remove a photo frame from her bedroom so she couldn't harm herself with the glass. 
Nelly Pelaez took her own life on November 5 at her home in Los Angeles following a five-month battle with depression, which started when she had a fight with a friend.
Her mother Kathleen Pelaez, 43, said she discovered her daughter's body when she went to wake her up for school.
Despite attempting CPR, Nelly who was just four days of 12 was already dead.
The mother-of-two is speaking out about Nelly's death in the hope of raising awareness about childhood depression and break the stigma around suicide. 
'It was completely unexpected because she had been doing so much better. She became this warm and loving girl again,' Pelaez told SWNS.  
'I believe this force of depression hit her hard in the middle of the night.'
'She was only 11. She could have had 90 years in front of her. I have to now live in a world without Nelly. It's a different world I live in now, and it's not a world I want to live in without my daughter.'
Pelaez said Nelly became depressed after falling out with a friend at summer camp.
Nelly returned home early and later blocked the other child on social media, but Pelaez said her 'bright and brilliant' little girl was 'profoundly' affected by the argument.
She began to experience 'dark moods' where she would 'withdraw', struggle to sleep and suffer suicidal thoughts.
At one point, Nelly asked her mother to remove a photo frame from her bedroom because she feared she would cut herself using the glass.
She also had sessions with a therapist and a psychiatrist and, on the advice of doctors, signed an agreement with her mother promising she wouldn't self-injure. 
'It came to the extreme of her being not allowed to close her bedroom door or be alone in her room. I wanted her safe,' Pelaez said. 
'She once asked me to remove a framed photo from her room because of the glass in the frame. She said, 'If I am feeling depressed or dark, I don't want that there'. She asked me to remove it and I did.
'She had engaged in self-injurious behavior but not ever to a degree that required any medical attention.
'I had asked her to enter into a written contract with me that she wouldn't do that. Since we had made that contract she had done it two more times but she hadn't for quite some time.
'I felt very helpless. There had never been a problem that either of my children had had that I wasn't able to kiss and cuddle away. I could not help her.'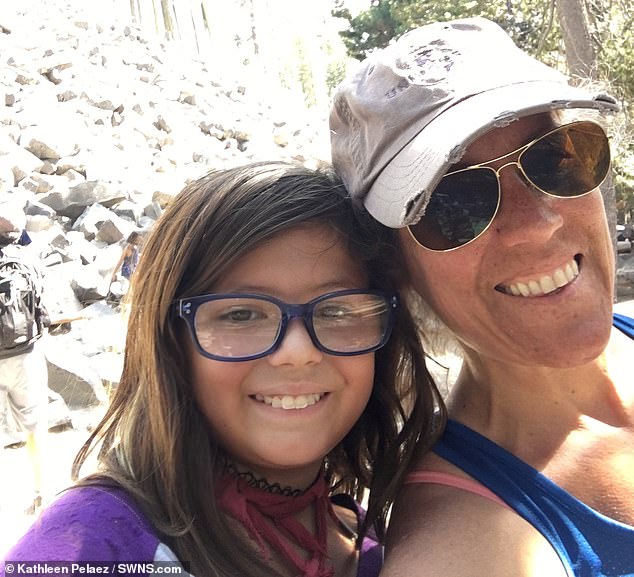 Nelly Pelaez parents seek to raise awareness about depression and suicide:
Pelaez said that Nelly's death was a 'shock' and that in recent weeks she had seen an improvement in her daughter's mood.
Nelly had recently started a new middle school and was making friends through her nightly dance classes according to her mother.
Even so, Pelaez and Nelly's dad, who are separated, had agreed that she would be prescribed antidepressants at her next appointment. 
'She had an appointment with a neuropsychiatrist scheduled for November 8, which she, of course, didn't get to have,' Pelaez said.
'It was at that point that we were going to go ahead and consent to medication. We had talked about it with Nelly and she was willing to try it.'
Nelly's death is being investigated by the Los Angeles County Coroner and the LAPD said it is not being treated as suspicious.
The Pelaez family have set up a fund in Nelly's memory to raise awareness about depression in children. They have already raised more than $20,000 from 400 donors. 
Paying tribute to her daughter, Pelaez said her daughter was a talented pianist, singer and trumpeter who loved gymnastics, dance and taekwondo.
She also loved to paint and draw and would want to be remembered as an artist.
'She was remarkable in every way. She never ceased to amaze me. She never ceased to make me laugh. I'm incredibly proud,' Pelaez said. 
A GoFundMe page has been set up for people to donate to the Nelly Pelaez Memorial Fund.  
Nelly Pelaez Memorial Fund https://t.co/dZynpRDXWt

— Andrea Morales (@AndreaM71607998) November 15, 2018