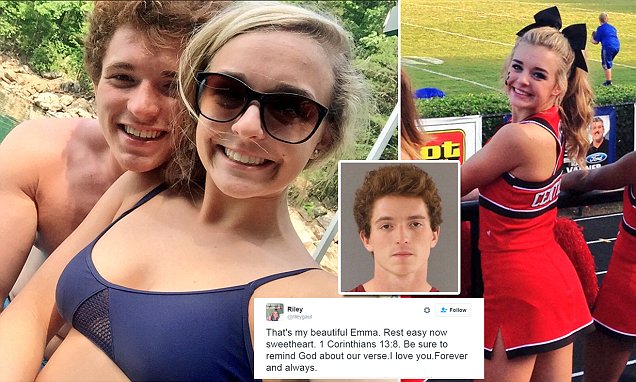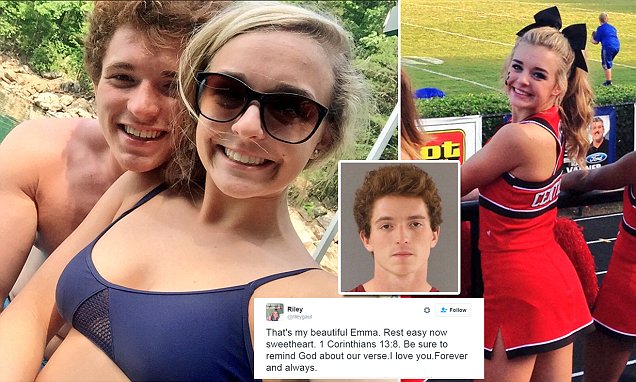 How William Riley Gaul a college football player shot dead Emma Walker his ex cheerleader girlfriend after breaking up with him.
William Riley Gaul an 18 year old college football player has been arrested after allegedly shooting dead his 16 year old cheerleader girlfriend, Emma Walker after breaking up with him.
News of the teen's murder came after the cheerleader was found dead inside her Knoxville, Tennessee home, Monday morning reports the Knoxville News Sentinel.
Since charged with murder, the Maryville College football player is accused of firing a gun into Emma Walker's bedroom from outside her house while she was asleep. 
The girl's murder is said to have come after the rising college football player refused to come to terms with his ex girlfriend's decision to break things off. Whether Gaul sought to punish the teen for rebuffing him or preempt her from seeing other men is yet to be understood?
Arrested Tuesday night, Gaul had been under surveillance by Knox County Sheriff's Office detectives after believing he was preparing to destroy evidence related to the homicide according to WBIR.
The pair had both been students at Central High School before Gaul graduated this year. 
Of note, prior to the football player's arrest, Gaul posted a lengthy tribute on Twitter professing his love for his slain girlfriend and reminiscing about conversations the young couple had about planning their future family. 
That's my beautiful Emma. Rest easy now sweetheart. 1 Corinthians 13:8. Be sure to remind God about our verse.I love you.Forever and always. pic.twitter.com/gD2stHbY3z

— Riley (@rileygaul) November 21, 2016
Wrote the football player: 'To think that every memory we have, every happy special moment we shared, can't ever be relived. I love you Emma Jane Walker,
'The amount of pain your family, me, the community are in because of this is insurmountable. Every time we held hands, kissed, hugged, to imagine that I'll never have that ever again hasn't quite yet hit me yet. 
'I'll never forget those times we talked about our future and what kind of dog we'd get and how awesome our family would be. I'll never forget sitting on the couch, watching Dr. Pimple Popper and making popcorn and laughing and holding you. 
'You're beautiful, you're amazing, you're funny, compassionate, caring… you're my best friend. There's not a human on earth that can make the impact that you've had on my life. I miss you more than anything. 
'Just knowing you have someone that's so in love with you gives you so much hope for your life ahead, and it can be taken away, just like that.'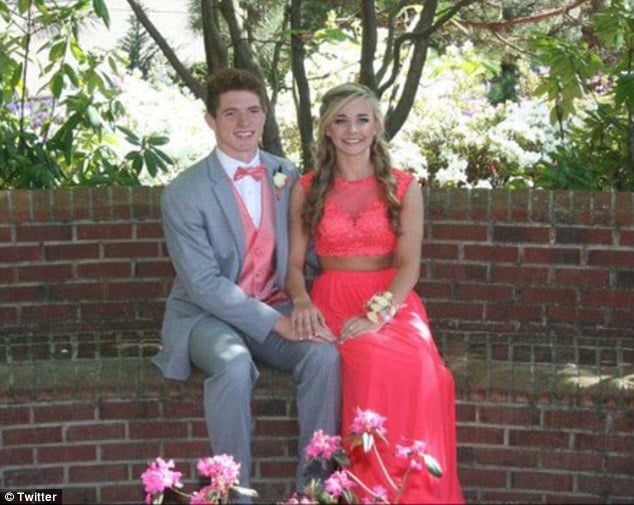 Gaul's social media profiles are filled with photos of the pair and references to the slain cheerleader. 
Pursuant to Emma Walker's murder, family and friends gathered at a memorial service for the teen at Central High School, Tuesday night.
I love you Emma, I can't be around any of that yet, it's too soon. I know you know I'm dying to be there but understand I can't. I love you.

— Riley (@rileygaul) November 22, 2016
At the time of the memorial, Gaul tweeted: 'I love you Emma, I can't be around any of that yet, it's too soon. I know you know I'm dying to be there but understand I can't. I love you.' 
Told Central High School Principal Michael Reynolds in a statement Wednesday: 'Our student was a wonderful young lady, a cheerleader and honor student with a promising future, whose life was cut too short, too soon,'
'At this time, our hearts and thoughts and prayers are with the family as they go through this grieving process. We thank everyone in our community for their tremendous support.'
William Riley Gaul is listed on the Maryville Scots football team's website as a freshman wide receiver. He most recently played on November 12 against Greensboro in North Carolina. Hudl lists him has doing a 40-yard dash in 4.49. Max Preps ranked him as the 43rd best wide receiver of his graduating class in Tennessee.
Gaul is being held on a $750,000 bond in the Knox County Jail notes Associated Press. 
He will face court within the coming days on his first degree murder charge.
A crowdfunding page has since been established to assist with Emma Walker's funeral expenses. To date just under $8000 has been reached.