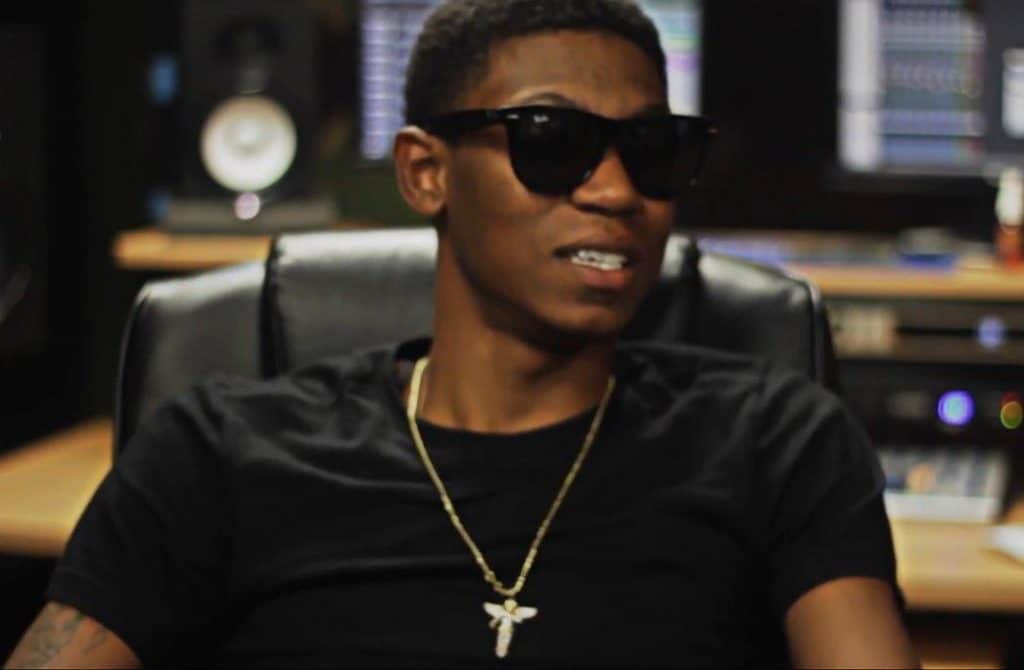 Lor Scoota dead: Who may have wanted the rising Baltimore rapper dead? Did the rapper's previous life and connections finally catch up with him?
Baltimore rapper Lor Scoota has been shot dead after leaving a local peace rally where the 23 year old was ambushed and killed by the gun violence he openly disavowed.
A rising 23 year old rapper, Lor Scoota, real name, Tyriece Travon Watson,  best known for his infectious "Bird Flu" song in 2014, according to a Baltimore Police statement was gunned down in broad daylight at a busy city intersection on Saturday, along Harford Road near Moravia Road, after an unidentified shooter jumped in front of the musician's car and opened fire just before 7pm.
Investigators believe the ambush was a targeted attack, with Lor Scoota the intended victim.
Told cops: 'Upon arrival, officers located an adult male who was suffering from at least one gunshot wound,'
'That victim was transported to an area hospital and was pronounced dead a short time later.'
Offered Baltimore police spokesman T.J. Smith in a press release: 'A kid that has been involved in a number of different rallies for peace throughout our city is the latest victim of crime here in Baltimore.'
An hour prior to being gunned down, La Scoota, had attended the 'Touch the People' charity basketball game at Morgan State University.
He was less than a five minute drive away when the shooter, wearing a white bandana, jumped into the street and shot him through the car.
Lor Scoota, one of Baltimore's most popular rapper, shot dead while driving. Rest in peace. ? pic.twitter.com/n3Er3RmVfh

— WORLDSTARHIPHOP (@WORLDSTAR) June 26, 2016
A report via the Baltimore Sun told of La Scoota having given back to his community through several peace rallies, along with reading books to children on Martin Luther King Jr.
'I never had my rapper or local rappers do that for me growing up, just wanted to give the kids that experience and memory,' wrote the rising Baltimore rapper on his Instagram page recently.
At the time of his death, Lor Scoota had been touring high schools in West Baltimore to speak to students on the importance of staying in school with councilman Nick Mosby.
Told the politician: 'I am saddened to hear about the senseless murder of Tyrice 'Lor Scoota' Watson.'
In February, Scoota was also recognized for sponsoring a Baltimore high school's football and cheerleading program.
Smith, the Baltimore police spokesman, said Scoota had touched many lives and served as an inspiration to the city's kids, providing new uniforms, equipment and gear.
Reiterated Smith: 'A lot of young people knew him, and looked up to him,'
'And whatever he might have been doing in the past, it appears he was doing some things to change his life and use those experiences to help empower other young people in our city of Baltimore.'
Not necessarily understood is who Lor Scoota may have associated with in the past and under what guise, that may have wanted the rising Baltimore rapper dead?
Added Smith: 'There are many who are going to scrutinize the lyrics in his songs and some of the activity that he might have been involved in the past. But the reality is he's a victim and there's a murderer on the street.'
.@only1Tranaye I think you misunderstood me. #LorScoota's killer is still on the loose. Check out the clip, thanks: pic.twitter.com/qhN70bNt0Z

— T.J. Smith (@TJSmithMedia) June 26, 2016
Responding to Lor Scoota's shooting death, Philadelphia rapper Meek Mill sent his condolences to Scoota in an Instagram post, pointing out he'd seen a lot of young people killed trying to 'make it out.'
To date police are still searching for the killer, while conceding they have yet to unearth any motives in the rapper's shooting death.
'This revolving door of death is something that's despicable and leaving too many mothers to bury their children,' Smith said.
Police ask anyone with information to call detectives at 410-396-2100 or Metro Crime Stoppers at 1-866-7LOCKUP.
DJ set up on opposite corner, playing #LorScoota's "Panda" remix and others of his songs pic.twitter.com/GEsaf338yg

— Colin Campbell (@cmcampbell6) June 26, 2016
At least 100 people rallying at Penn -& North after the murder of rapper #LorScoota more at 630 on @ABC2NEWS pic.twitter.com/FQ44gF7aGq

— Nadia Singh (@NadiaSinghNews) June 26, 2016