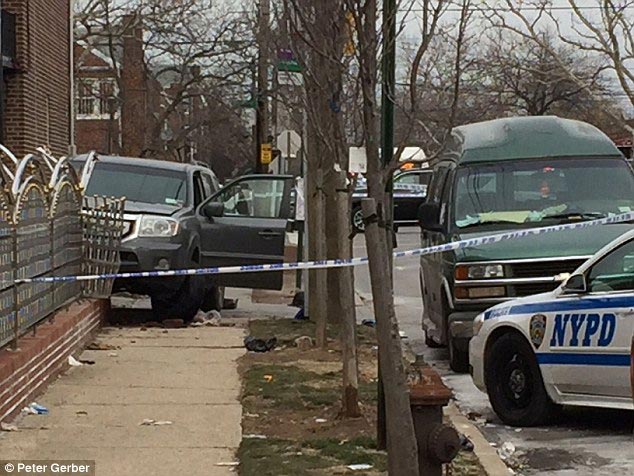 Phillipe Pierre, 39 a man that Brooklyn man Zachary Sam, 17 had intended to steal a pair of Air Jordan 8 Retro sneakers from has been charged with attempted murder after taking matters into his own hands after a bungled robbery.
Things came to a head, Friday 1pm when the two men using app Wallapop arranged to meet in Canarsie in exchange for Pierre's $490 agreed upon retro sneakers.
With Pierre and Zachary Sam sitting in Pierre's car, the seller believing he would be offloading a pair of runners for a sweet profit, got the surprise of a lifetime when the teen pulled out a gun instead, demanding the kicks for free.
From there Phillipe Pierre is alleged to have stepped on the pedal with Zachary Sam still inside the vehicle, with the teen living nearby opting to jump out of his would be victim's car at the intersection of East 86th st and Avenue M according to witnesses.
But what happened next has defied imagination, led to furore and debate as Pierre instead of driving off, notifying authorities, decided instead to turn his car around and charge into Sam, crashing into him in front of a fence.
The impact of which led to Zachary Sam's arm literally pulled off after being pinned against the fence.
But it gets crazier.
With the teen lying under the car and fearing for his life, the teen then gets up and proceeds to start running down the street. Running while his detached arm remains next to his dropped gun by the side of Pierre's car.
Told witness Alex Saint Fluer via the nypost: 'I saw a kid under a car,'
'The guy ran him over. He got out, the driver said, 'He's trying to rob me. He's trying to rob me.''
'I saw the gun on the floor,' Fleur added. 'The arm was on the floor near the gun.'
Having gotten up from under the car, Sam was observed then getting on a city bus, to the utter horror of all inside.
'Everyone is screaming, 'Come back, come back, your arm. You're bleeding too much,'' Fleur said.
And even crazier.
Sam then got out of the bus and started running down Avenue M, told witnesses, before finally collapsing in the street.
The teen was taken to Brookdale Hospital, where he remains in serious but stable condition, law enforcement sources said.
On Friday afternoon, the bus was pulled over on 80th Street, blood spattered on its front entrance.
Offered a witness: 'I was walking up the sidewalk and I heard a boom behind me,'
'I just kept it moving. I saw somebody run on the bus with a missing arm.'
Pierre has since been arrested and charged with attempted murder, whilst Sam was charged with robbery and criminal possession of a weapon.
nypost: A robber's arm was severed after he held up a man at gunpoint for a pair of pricey sneakers … pic.twitter.com/qTFBRfn876

— Jascapital (@jascapital2) February 13, 2016