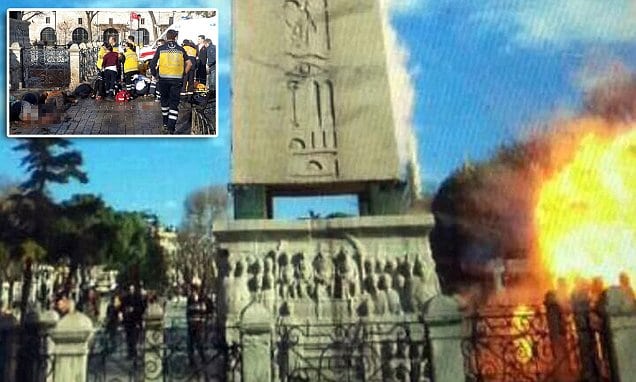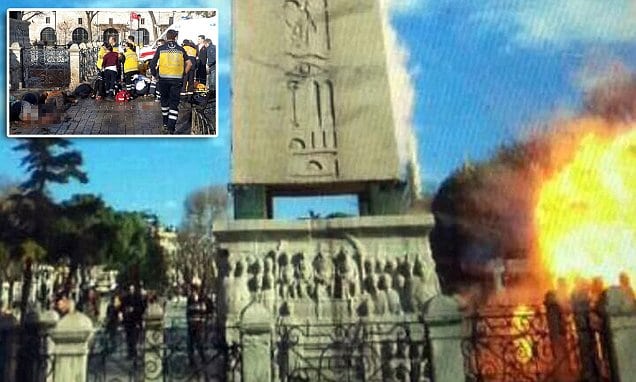 Nabil Fadli has been identified as the 28 female Syrian suicide bomber responsible for the death of up to ten individuals along with 15 injured, mostly German tourists, after self detonating in the district of Sultanahmet, a heavily tourist trafficked neighborhood.
The Sultanahmet neighborhood is Istanbul's main sightseeing area and includes the Topkapi Palace and Blue Mosque.
The terror linked attack according to a report via the telegraph occurred at 10.30 am local time at the hands of a lone 28 year old female Syrian suicide bomber. Revised local reports are now telling that the woman is in fact a Saudi Arabia national. 
The blast tore through the Sultanahmet Square, next to the city's famous Blue Mosque landmark, which was swarming with security forces and ambulances in the aftermath of the blast. Police have since sealed off the area and are barring people from approaching in case of a second explosion.
Despite no group having claimed responsibility for the attack, Turkish officials are telling local media outlets that that ISIS militants are behind the attack. Of question is what or any allegiance the suspect, Nabil Fadli has to such entities? 
Told Istanbul's governor Vasip Sahin via CNN: 'Investigations continue about the explosion's cause, the explosive's types, the perpetrator/perpetrators of the event.'
Told one local worker, Erdem Koroglu who saw several people on the ground shortly after the blast via Turkey's NTV television: 'It was difficult to say who was alive or dead,'
'Buildings rattled from the force of the explosion.'
Offered local witness, Murat Manaz: 'It was a suicide bomb. I went there and saw it and came back to the hotel. There was chaos. Everybody was running somewhere.
'Policemen did not see this coming. They were distressed but at the same time they were trying to evacuate the area because they said there was a possibility that a second bomb could go off.'
Told a German tourist close to the blast: 'The explosion was so loud, the ground shook. There was a very heavy smell that burned my nose,'
'I started running away with my daughter. We went into a nearby building and stayed there for half an hour. It was really scary.' 
Offered Turkish president Recep Tayyip Erdogan who in recent months has drawn increasing scorn for his nation's 'proactive' policies in the area, both from Russia and Syria: 'I condemn the terror incident in Istanbul assessed to be an attack by a suicide bomber with Syrian origin,
'Unfortunately we have 10 dead including foreigners and Turkish nationals,' 
'This incident has once again showed that as a nation we should act as one heart, one body in the fight against terror. Turkey's determined and principled stance in the fight against terrorism will continue to the end.' 
Responding to the suicide attack, Germany's Angela Merkel, struggling with disarray back home after signs that her inclusive refugee policy has gone awry told: 'We don't have all the information yet… but we fear that German citizens could be and probably are also among the victims and injured.'
The moment of the kamikaze blast in #Sultanahmet next to the Obelisk of Theodosius – @ozgenaydos #Istanbul pic.twitter.com/xgN04NPtcy

— Matteo Meloni (@melonimatteo) January 12, 2016
Turkish authorities have in recent weeks detained several suspected ISIS members, with officials saying they were planning attacks in Istanbul.
The country is also dealing with more than two million Syrian refugees and a wave of migrants from Syria and other countries pouring across Turkey to Europe.
Complicating matters is the fact that Turkey is also waging an all-out assault on the outlawed Kurdistan Workers' Party (PKK) which has staged dozens of deadly attacks against members of the security forces in the southeast.
While Turkey has been plagued by violence in recent months, this morning's attack is one of the first to target an area frequented by foreigners, raising questions how and why foreigners have now found themselves the target of extremists?
what RT @rapplerdotcom: (UPDATED) Syrian suicide bomber kills 10 in Istanbul's tourist heart https://t.co/EcLBJH58m6 pic.twitter.com/8DDg2YhlxF

— Ronnie (@Ro_nnie) January 12, 2016
Syrian man, 28, was behind suicide bomb that left 10 dead in Istanbul https://t.co/mRAbQdPaa4

— Metro (@MetroUK) January 12, 2016
Syrian Suicide Bomber behind Explosion in Turkey https://t.co/3fl0XjfjmX #Turkey #Istanbul #explosion #Terrorism pic.twitter.com/y2go4QnVmx

— Asharq Al-Awsat Eng (@aawsat_eng) January 12, 2016
#sultanahmet #Istanbul pic.twitter.com/SBXMnJBuyD

— Yasin Çelebi (@yasinGStore) January 12, 2016