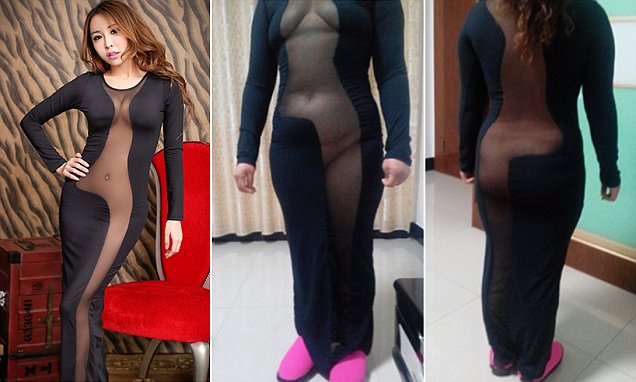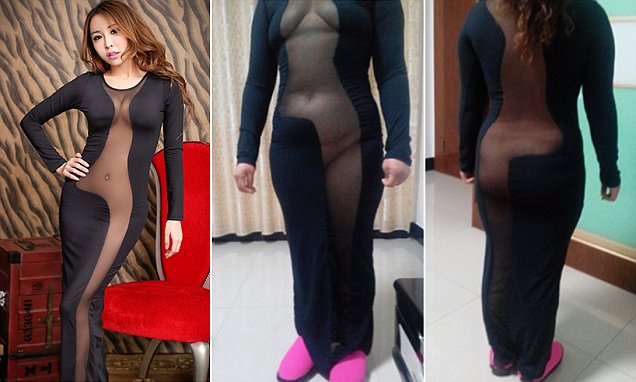 A Chinese woman got more than what she bargained for after buying what she thought was a glamorous gown with daring when she came to realize that the dress somehow didn't quite match what she had seen on e-commerce site Taobao.
Taking to posting the dress, the shopper sought to demonstrate how her glamorous gown was anything but.
The gown once worn by actress Jaime Alexander at a film premiere rather than coming off as a sleek number instead serves to draw unfavorable attention to the shopper who must have thought she was picking up a form flattering gem at a discount price.
Unsettled and one wonders rightly so the woman decided to post comparison images form the seller's page and how the ill fitting gown actually came off in real life.
Reports the UK's dailymail: Stretched across a less petite figure, the sheer panel shows off a lot more skin and covers less of her intimate regions, turning what was a daring look into a rather more X-rated one.
The shopper's pink slippers do little to help the sartorial situation as they stuck out obviously from underneath her dress, giving her a humorous look. 
That said it may well be in an effort to cater to a wider audiences, retailers have resorted to using less quality materials which perhaps ought not be used for such daring presentations.  Then again sometimes some forms and outfits are not always meant for everyone. What's the adage? Be careful of what you wish for or in this instance what you buy…