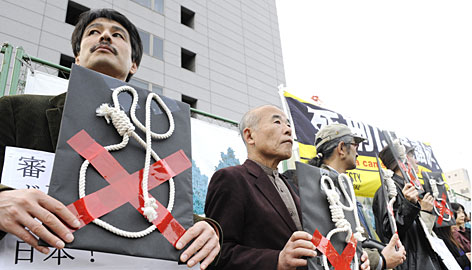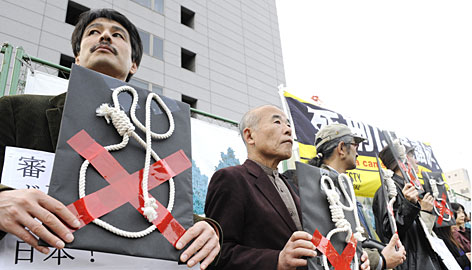 In a startling revelation, the atlanticwire has told that Japan executes its prisoners hours before notifying them.
Upon put on death row, the convicts are not told until hours before the day of their impending execution that they will be hanged.
In an earlier report the UK's guardian goes on to tell "in a report published in 2008, Amnesty [International] said inmates in Japan were being driven insane and exposed to 'cruel, inhuman and degrading' punishment."
The secrecy of when an inmate is to die is said to have profound psychological effects on prisoners who often spend years on death row wondering if their waking day will be their last.
The fissure has been reignited upon the recent acquisition of two death row inmates, Ryoji Kagayama and Mitsuo Fujishima.
Kagayama was sentenced to death in 2009 and Fujishima in 1995. Each were responsible for the deaths of two people. Currently, there are 129 Japanese inmates on death row.
Polls show Japanese support for capital punishment is consistently over 80 percent.
Usatoday told in an earlier report that the increase of hangings comes as homicides actually are on the decline — the lowest since World War II, according to Japan's National Police Agency. But the public, fed a steady diet of lurid crime news by the Japanese news media, is more fearful than ever.
Told Ryosuke Matsuura, who leads Amnesty International's campaign against the death penalty in Japan: "The number of killings is declining,"
"But the public believes Japan is getting more dangerous."
above image found here
And then there were these comments that made me wonder as well:
Do we, as Americans, have the right to criticize another country for the way they execute their prisoners? I mean, we are pretty horrible to our citizens on death row and are one of the last civilized countries to even have the death penalty. While what Japan is doing is pretty terrible, it doesn't seem much worse than what we do here…
I wonder how much notice these inmates gave to their victims before murdering them. I wonder how much mental anguish the families and friends of those victims are suffering. These criminals didn't care about the lives and mental conditions of their victims and victims' families so how can they expect any better? Seems like "cruel, inhumane and degrading" treatment is just karma.