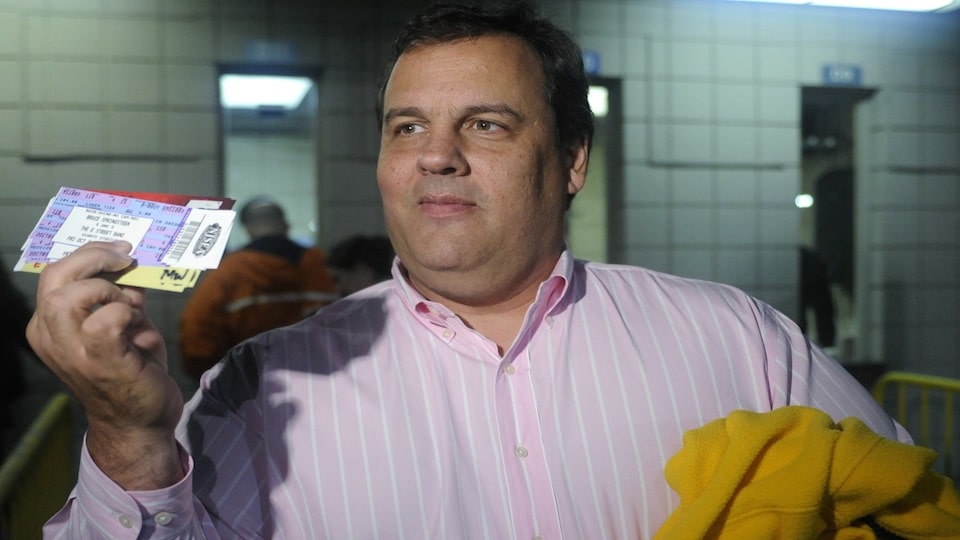 As the nation goes into the presidential elections today questions will be eventually asked what were the deciding moments, incidents that led to the country finally settling on Mitt Romney or the incumbent President Barack Obama. That said if anyone is looking for a clue it might help to look at NJ's Governor Chris Christie who's buddy posturing with Barack Obama (see below) and now weeping over Bruce Springsteen's relief performance for Hurricane Sandy (also a big time supporter of the President).
Which is to say if Obama ends up winning, Governor Christie may end up getting a phone call from Mitt wondering out aloud was it really necessary for the Governor to go out and be so chummy with his opponents especially since Christie had recently gone on record to support Mitt? Well yes cause he's a politician too who's also always thinking about his own political aspirations.
gawker: Dude has reportedly seen Springsteen live over 130 times and is known to enter a prayer-like trance/fall asleep during the Boss's concerts.
All this devotion has been complicated a bit by the fact that Springsteen mostly shuns the governor because of politics and whatnot, although Bruce is apparently "very kind" to Christie's children. But still, how sad for Christie! All that unrequited obsession.
Well, Christie finally got some love in return last Friday at the "Hurricane Sandy: Coming Together" benefit. Perhaps to congratulate Christie on his sartorially-inspired leadership during the storm, Springsteen shook the governor's hand and hugged him after the concert. Sounds like a small, normal enough gesture. Not for Christie. He was so moved by the moment that he cried afterwards.
"Bruce and I had an opportunity to chat for a while Friday night… we hugged and he told me, 'it's official, we're friends," Christie said at a news briefing.
Trust me kids, there's a reason why Bruce took the time to finally shake Governor Christie's hand, cause there's nothing like the sight of your supposed enemy coddling up to you and offering words of encouragement and winks. It might be all it takes to turn undecided voters for the President, just wait and see….