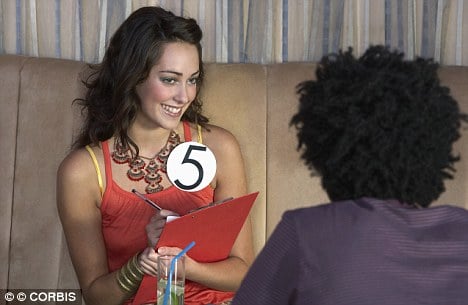 Dating site, 'On speed dating' realizes that dating in NYC unlike dating in the rest of the country can be a vexing matter. There's after all the income bracket, the education concerns and of course the breeding factor that also comes to play. What also comes in to play more than anything though is how does your partner look? Well with on speed dating that no longer ought to be a concern of yours. Confused? Don't be…
dailymail.co.uk: Everyone has a list of qualities they look for in a partner and though physical attributes often feature, who you fall for usually comes down to chemistry. 
For some men, however, a slender physique is a non-negotiable requirement, and knowing this all too well, New York dating service On Speed Dating will host its second 'Skinny Minny' night to cater to such demand. 
The speed dating extravaganza to be held in Manhattan's East Village, will only allow entry to women size 0-8 and all clothing labels they guarantee, will be checked at the door.
Checked at the door too? Hmm, and do you think the guys have to also abide by some 'skinny barometer' as well? Hell no. Of course this raises the question why would a woman subject themselves to some kind of corny double standard unless she too is also establishing her own double standard (ie dude better be rich). In this case men better have height to go…
Co-founder, Amber Soletti, told MailOnline about the strict door policy for the 'Skinny Minny' event: 'If [we get] any flack from women we explain that "fair is fair" and that our "Size Matters" Speed Dating event for women who want to date men 6'1″+ that we measure the men and confirm they are all tall enough to participate as well.'
But just in case you think this is just a bunch of pretentious twats Amber Soletti makes the reasonable point that whether we admit or not we all have legitimate things that we look out for in a prospective partner and at least this way everyone is open and no one is set up for a disappointment.
And for those woman who want to come along anyway and don't quite fit the size 0-8 (the average American woman wears size 14) Amber Soletti suggests you needn't bother cause even if you make it past the front door, all attendees are required to prominently display their size on their lapel, which might not make for a good look if you're a size 12 trying to downplay to a wishful size 8 or less….
Of course there are those who claim double standard (why only thin hot chicks) but that's really not what's going on here. In fact everyone gets what they want. He the skinny hawt thing that he feels he deserves and she the financially secure man that she feels she deserves for playing her part. All the outlet is doing is playing up to stereotypes and cashing in on people who don't think beyond the bell curve….