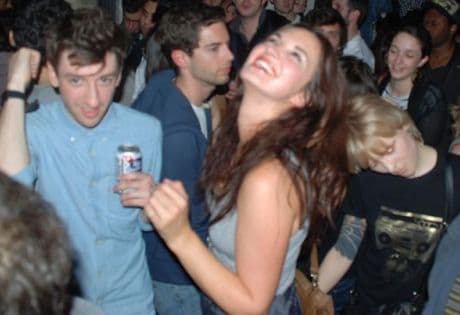 I'm some where deep in Brooklyn and already the pavement is pouncing, the skanky street in front of me frothing. Up a flight of stairs and straight into the vortex. The walls slamming, the electro drum beat strutting, the cheekbones hustling. It's a quarter past 3 in the morning and the dregs of stellar society are working the cavern. Working it to my utter delight…
Hipsters, jet setters, derelict artists and everything in between grinding to deep abandon. The dj hustling the room into a sweet delirium, raised fists, clocked knees, designer smiles and the grind of a deep melody running up and down your spine. Your back aching, them bitches making you do double takes and your shoulder blades making out with some random vixen, your imagination beginning to run ahead of itself and this bloody DJ refusing to show you mercy as you pound your soul against Saturday night's abyss. Mr Saturday night's abyss that is…
Featured dj's featured this Saturday night included resident dj's Eamon Harkin,  Justin Carter (whom we thank very much for hosting us) plus a roterie of world class acts. Deep house, electric house, trip hop the preferred acumen this past Saturday night.
To find more information on future dates and 'Mr Saturday night' go here.
Choice pictures of the bacchanalia go until pg 7.