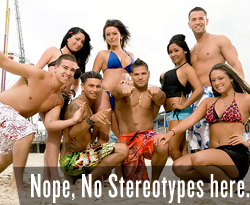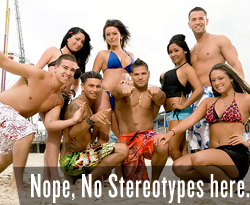 Having Guidos giving you a bad name.
There's nothing more frustrating than having a bunch of idiots carrying on and misbehaving in a way that gives birth to stereotypes. And this says nothing of maintaining those stereotypes. Welcome to MTV's attempt to humiliate Italian Americans in it's too close too reality portrayal of the 'Jersey Shore.'
Says the NY Post;
UNICO National said Tuesday that "Jersey Shore" relies on crude stereotypes and highlights cursing, bad behavior and violence in depicting renters at a New Jersey beach house.
A promo describes the participants thusly: "They keep their hair high, their muscles juiced and their fists pumping all summer long!"
In any event, the show which depicts Jersey beachgoers is set to launch December 3rd, and knowing how much you like trash television this show should help you keep numb and in constant disbelief.
New York Post
Italian Group Asks MTV to Cancel 'Jersey Shore.'