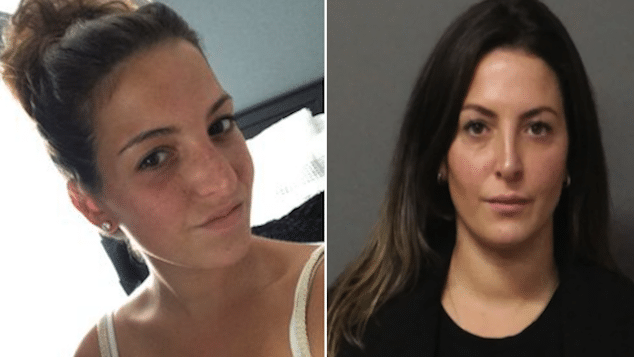 Andie Rosafort, New Fairfield cafeteria aide charged with sex assault of 14 year old Connecticut middle school student & sending nude images after grooming her victim over course of six months. Had been warned not to reach out to students in prior months. 
'Wanna see something?' A Connecticut school cafeteria aide has been accused of sexually assaulting a 14-year-old student at her school after grooming him via text. 
Andie Paige Rosafort, a former lunch aide at New Fairfield Middle School allegedly sent nude photographs and videos to a teenage boy via Snapchat over a six-month period along with also having sexual intercourse with him. 
Andie Rosafort, 31, is alleged to have sent her first nude image to her victim with the following caption: 'You want to see something?' 
The New Fairfield Police Department launched an investigation after receiving information on January 17 that inappropriate behavior had occurred between the school employee and the teenager four days earlier.   
A friend of the victim told her parents who then reported the suspected sexual assault to the police.
The plot thickens according to new emails. New Fairfield Connecticut school dismissed accusations lunch lady was grooming teen victim https://t.co/sYEx8Mrqr3 #Andie Rosafort #New Fairfield Middle School #sexual predator

— Scallywagandvagabond (@ScallywagNYC) March 10, 2023
'You want to see something?'
According to the affidavit, Rosafort had been communicating with the victim for six months through various social media platforms including Instagram and Snapchat.
At one point, the victim alleged how he received a message from Rosafort that asked: 'You want to see something?' before sending him a nude photo.
When the boy replied asking if she had possibly sent the picture by mistake, Rosafort sent a second unsolicited nude selfie.
Along with sexts Rosafort is alleged to have also sent her minor victim, the school cafeteria aide is alleged to have also sent video of her pleasuring herself to him over the course of several months.
Rosafort is alleged to have asked the 14-year-old to send her nude photographs of himself in return.
The victim also reported that Rosafort attended his sports games and sent him videos of him playing. 
Police collected evidence that the victim and Rosafort were in the same location when the alleged sexual assaults occurred. 
A parent told police New Fairfield school cafeteria aide Andie Rosafort was "always… https://t.co/gDwg3guFvD

— The Pug (@thepugnews) March 3, 2023
'ended sexual encounter because he began to feel weird about it' 
Investigators also say they found a shirtless picture of the victim on Rosafort's phone. 
Matters came to a head when the teen had been at a party in January and told his friends that he had to leave because he needed to see his family.
His friends felt that something was off after he left in the middle of the event according to an affidavit cited by WTNH.
When he returned, his friends felt as though the boy was 'acting strange.' It was then that he revealed what happened between him and the cafeteria aide and that he had 'left the party to have sex with a woman.'
Details from the arrest warrant filed mid February show how the victim had sexual intercourse in a SUV vehicle only to have 'ended the encounter because he began to feel weird about it.' 
The boy told his parents two days later after feeling 'very weird and guilty' about what happened. 
Damning evidence found on victim's phone
As part of the investigation, detectives examined the victim's phone and found 'several screen recordings of videos on a social media platform containing explicit content and depicting an individual identified by investigators as Rosafort,' according to state police.
The school district placed Rosafort on leave immediately after learning of the alleged sexual tryst, with the school lunch lady resigning from her part-time position the next day. A report via the Newstimes told of the cafeteria aide previously been warned to watch her interactions with minors. 
School district records reveal how she was warned not to text or contact students through social media in December. The lunch aide according to a filed affidavit stated Rosafort would often be seen talking to freshman boys on social media.
Following formal charges being placed on February 17, Rosafort turned herself in to authorities and posted a $100,000 bond on February 20. She was released on condition she have no contact with any minors other than her own children. She is also no longer allowed on social media. 
Rosafort has been charged with several offenses, including sexual assault in the second degree and use of a computer to entice a minor to engage in sexual activity, injury or risk of injury, or impairing the morals of a minor, according to police.
During last week's arraignment at state Superior Court in Danbury, presiding Judge Robin Pavia issued a protective order at the state's request. The order prohibits Rosafort from using social media, as well as talking, threatening, abusing, harassing, following, interfering or contacting the victim in any manner. She must also stay at least 100 yards away from the victim.
The former cafeteria aide has pleaded not guilty to the charges with her next court appearance scheduled for March 23.