Brendan Depa, Matanzas, Florida student who beat Joan Naydich, Flagler teacher to be tried as an adult as the

6'6″, 270 p

ound special needs

student with 3 prior battery cases faces up to 30 years jail. 
The Florida special needs student captured on surveillance video of violently attacking a high school teacher's aide will be charged as an adult and is being held on a $1 million bond. The decision to try the teen as an adult comes following reports of the youth previously been arrested for battery three times.
Brendan Depa, 17, will be tried as an adult for the brutal beating of Flagler teacher, Joan Naydich, 57, of Palm Coast at Florida's Mantanzas High School.
The beating led to the teacher being left unconscious after the 6'6″, 270 pound student ran up to her in a school hallway, knocking her down and then proceeded to punch her up to fifteen times as she lay unconscious on the floor before the student was pried off by a group of people.
Officials say the physical altercation between the 'special needs student' and teacher's aide happened on Feb. 21 when the teacher's aide took away the student's Nintendo Switch video game during class time. 
An assertion the educator has since denied as 'misinformation' as she praised well-wishers who had donated upwards of $63K to a GoFundme page in support of recovery healthcare costs.
JUST IN: 6'6" 270 pound black male student attacks a white teacher at Matanzas High School for taking away his Nintendo Switch during class…

Video reveals the unconscious woman being brutally assaulted and struck in the head roughly 15 times. pic.twitter.com/pZAJzhaykv

— Chuck Callesto (@ChuckCallesto) February 24, 2023
'This could have been a homicide,'
The episode led to the educator who has been with the district since 2004 and as a paraprofessional since 2021 with broken ribs and heavy bruising.
Sheriff Rick Staly said that the teacher could have been killed, according to WESH 2.
'This could have been a homicide,' Staly said. 'When you push people down like that, they hit their head, you never know the outcome.'
The student is being charged as an adult and faces one felony count of aggravated battery on an elected official or education employee, according to FOX 35. Depa remained in jail on a $1 million bond.
The decision to try the 17 year old as an adult comes as Depa was charged with simple battery three times in 2019 before the attack this month.
The arrests were categorized as first-degree misdemeanors Flagler Live reported.
After his first arrest in March that year, he was placed in juvenile custody for a few days — but was soon rearrested and admitted to what the state Department of Juvenile Justice refers to as 'respite care,' according to the outlet.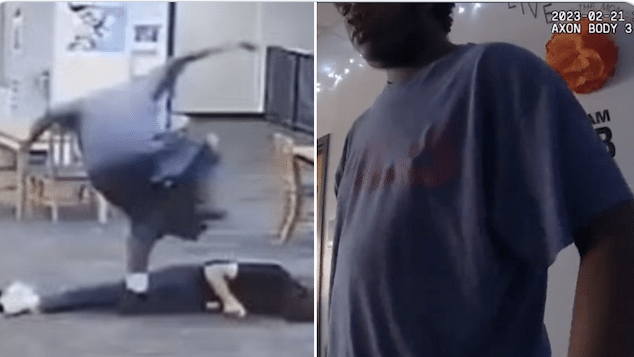 Placed in numerous judiciary programs
He was reportedly held for domestic violence respite care, which the department defines as 'When the youth being admitted was screened at the JAC [Juvenile Assessment Center] for domestic violence charges and did not score for secure detention, but is unable to be released to family and would otherwise be held in secure detention.' 
Depa was then placed in a diversionary program categorized as 'Intensive Delinquency Diversionary Services,' Flagler Live reported.
It was unclear whether the third charge was lodged when he was in or out of juvenile custody, but he completed the department's programs and appeared to steer clear of trouble until last week's violence.
Naydich has spoken out for the first time following the incident, commenting on a GoFundMe page which was set up to support her.
The page has raised nearly $63,000, with the teaching aide saying she was 'overwhelmed with the idea of the long fight ahead. Your contributions are lessening that burden and I'm truly grateful!
'I'm hopeful that the awareness of this incident being spread far and wide will prevent anyone else from ever dealing with the trauma, physical healing and disruption of everyday life that this has caused.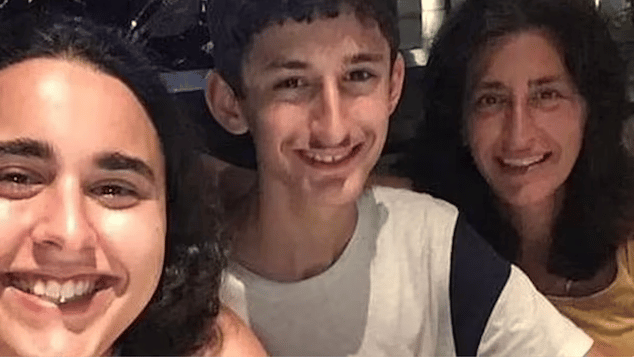 Faces 30 years if convicted
'It's touching to know that so many care. This certainly wasn't how I saw my son's senior year turning out for our family.'
Naydich has since been released from hospital and is recovering at home following the savage beating.
Those convicted of aggravated battery of a school board official in Florida can face up to 30 years in jail for the first-degree felony.
Depa has also been ordered not to contact the teaching assistant by the court, and he will appear for his arraignment on March 6.