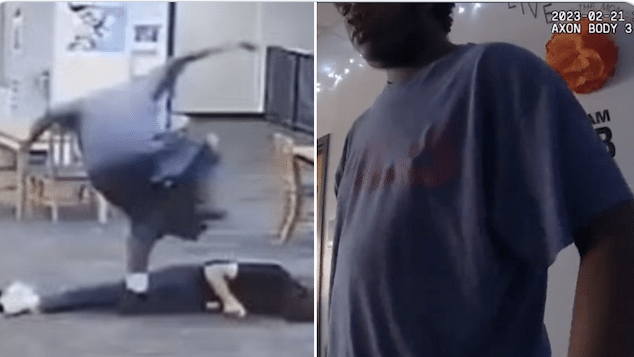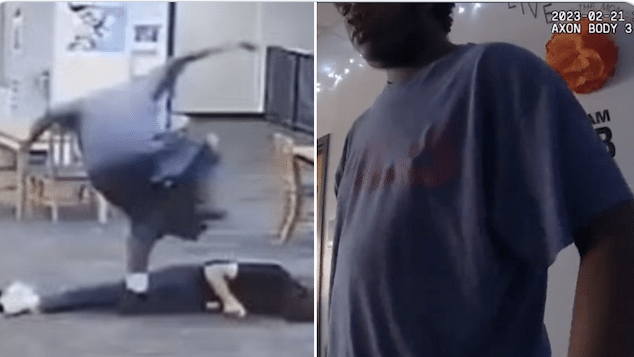 Matanzas High School 'special needs' student weighing 270 pounds and 6ft'6 nearly kills Flagler, Florida teacher, Joan Naydich, after vicious beating after she confiscated his Nintendo Switch game. 
Video has been released showing the moment a 6-foot-6-inch Florida 'special needs' student crashing into a female teacher and beating her unconscious this week after the educator confiscated his Nintendo Switch video game device.
The infuriated 17-year-old can be seen sprinting toward the female educator, mom of two, Joan Naydich, who turns and spots her assailant a split second before he shoves her to the floor.
The 270-pound student then repeatedly stomps on the unconscious paraprofessional inside Matanzas High School in Palm Coast before punching her 15 times.
Several other staffers who witnessed the Tuesday morning assault come running to pull the boy off the Naydich, 57, who was rushed to a local hospital.
'This could have been a homicide,' Sheriff Rick Staly told WESH 2. 
JUST IN: 6'6" 270 pound black male student attacks a white teacher at Matanzas High School for taking away his Nintendo Switch during class…

Video reveals the unconscious woman being brutally assaulted and struck in the head roughly 15 times. pic.twitter.com/pZAJzhaykv

— Chuck Callesto (@ChuckCallesto) February 24, 2023
Extent of teacher's injuries yet to be released
The educator who wasn't named is expected to recover from her injuries.
Separate video released by the Flagler County Sheriff's Office shows the attacker being placed in handcuffs inside a classroom at Matanzas High School in Volusia County.
'The student stated that he was upset with the victim because she took his Nintendo Switch away during class,' police said in a statement.
According to an arrest report, arriving deputies found the teacher bloody and unconscious.
The student, who lives in a group home, began spitting in the teacher's direction, telling cops that he was 'going to kill her' when he returned to school.
In a statement, a spokesperson for Flagler Schools said Naydich who was attacked has been with the district since 2004 and as a paraprofessional since 2021. The extent of her injuries were not immediately released.
While he was being processed, the teen repeatedly asked a deputy when he was going to be released, and began kicking a desk and becoming violent when he didn't get the answers he was hoping for.
'F**k you, I don't want to go to jail. I have more important things to do,'
In bodycam footage, the student can be seen asking officers if he is 'going to jail,' while they handcuff him in the school.
'For how long?' the students asked.
'I don't know,' the officer replied.
Moments later he told officers: 'F**k you, I don't want to go to jail. I have more important things to do,' before accusing them of manhandling him.
'The actions of this student are absolutely horrendous and completely uncalled for,' said Volusia County Sheriff Rick Staly in a statement. 'We hope the victim will recover, both mentally and physically, from this incident.'
'I feel very sorry for the teacher, the paraprofessional who was attacked. It's just something we see all too often, these days,' said Matanzas High School parent Ann Marie.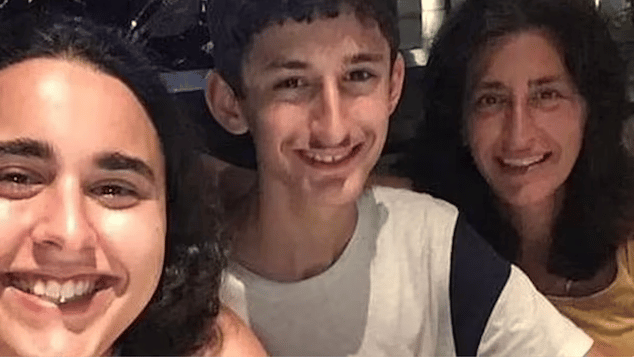 'Joan is humble, never asks for help and needs our love/support during this difficult time,'
As of Saturday morning, a 'Support & Encouragement for Joan' fundraiser had raised  $1,130 USD raised of a $5,000 goal for the Palm Coast native. 
'Joan is humble, never asks for help and needs our love/support during this difficult time,' friend and fellow parent, Jessica White Leon, wrote on GoFundMe. 'I've had the privilege of getting to know Joan through our kids' bowling team for Matanzas HS for the last six years!' 
The un-identified teen was turned over to the Department of Juvenile Justice and has been charged with one count of felony aggravated battery with bodily harm. 
Volusia County School officials issued a statement after the Flagler County Sheriff's Office released the disturbing footage.
'The safety and security of our students and staff is of utmost importance to us and we will continue to cooperate fully with the local authorities as part of this investigation,' officials wrote.