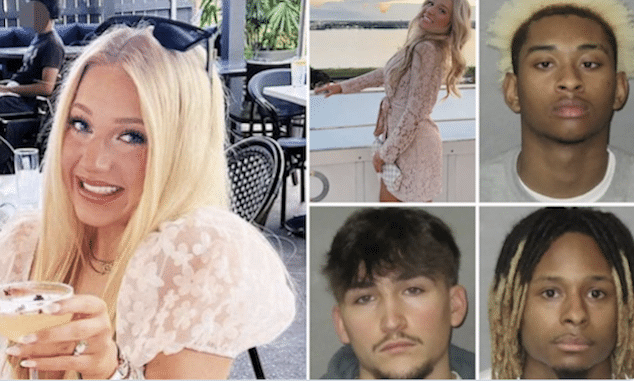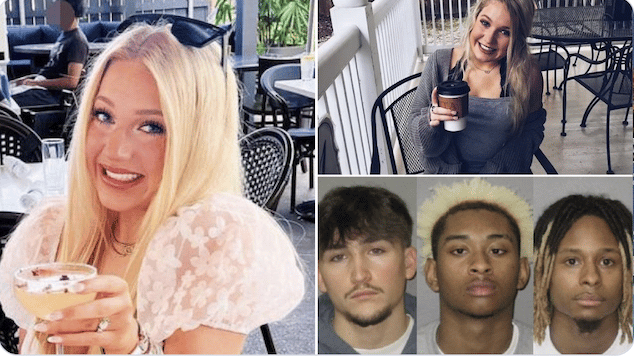 Madison Brooks LSU student killed by car after alleged rape by 4 male suspects. How a drunken evening at a local bar led to tragedy and questions of accountability. 
Where were her sorority sisters? Four male suspects have been arrested in the rape of a Louisiana State University (LSU) sorority member after she was later left on the side of the road and fatally struck by a car following a night of drinking, police said.
The East Baton Rouge Parish Sheriff's Office said Madison Brooks, 19, was raped before she was hit and killed by a car on Jan. 15.
Kaivon Deondre Washington, 18, Everett Lee, 28, and Casen Carver, 18, turned themselves in Monday, more than a week after Brooks was fatally struck in Baton Rouge, the Advocate reported.
A fourth suspect, a 17-year-old boy who had not been identified because he is a minor, turned himself in on Sunday.
Brooks had been drinking at Reggie's, a bar near the LSU campus where she met the 17-year-old suspect on Jan. 15.
LSU sorority sister gets a ride with 4 men only to be sexually preyed upon
She left between 1 and 2 a.m. with the teen and the three other suspects, according to an arrest warrant.
Carver admitted to police that Brooks 'was very unstable on her feet, was not able to keep her balance, and was unable to speak clearly without slurring her words'. 
Carver told investigators he witnessed Brooks and the 17-year-old boy 'hugging and walking together,' saying she asked for a ride home.
'He admitted that he agreed to give her a ride because he did not want to leave her while very intoxicated and the bar was closing up,' according to an arrest warrant. 
Carver told authorities that he sat in the driver's seat and Lee was in the front passenger seat, while Washington and the 17-year-old were in the back along with Brooks.
He said he asked Brooks for her address, 'but she fell over and could not answer him.' the warrant stated, 'so he drove a short distance and pulled over.'
Carver 'stated he overheard his 17-year-old juvenile friend as he asked the victim five times if she wanted to have sex with him,' to which Brooks 'gave verbal consent,' according to the document.
JUST IN:Reggie's bar in the Tigerland area of Baton Rouge will be issued an emergency suspension today, according to ATC.

"This action immediately suspends the service or sale of alcoholic beverages at this location."

This, after the tragic death of LSU student Madison Brooks

— Alyssa Curtis (@AlyssaNCurtis) January 24, 2023
Personal accountability, vendor accountability, predatory male behavior
He said the 17-year-old and Washington then had sex with Brooks before he told them, 'We got to stop this, let's go,' the document says.
When asked by cops if he thought the woman was too impaired to give consent to sex, Carver said, 'I guess.'
Carver told investigators he believed Brooks was too drunk to understand she was consenting to sex and he 'hated it,' the warrant stated.
Police also interviewed Washington, who said he was sad about Brooks' death, but also admitted that he laughed while he walked behind her earlier and thought, 'How y'all meet a random girl and just bring her home?'
He said they later dropped Brooks off at a nearby subdivision, where she was struck around 3 a.m. by a rideshare driver on Burbank Drive near Pelican Lakes Parkway.   
Investigators said the sorority sister had a blood-alcohol content of 0.319% — nearly four times the legal limit. It remained unclear how Brooks and her alleged teen rapists were able to consume alcohol alcohol at the venue. Drinking in public venues is illegal for anyone under the age of 21, with vendors subject to large fines serving underage drinkers. 
Attorney disputes allegations from East Baton Rouge Parish Sheriff's Office that say LSU student Madison Brooks was raped before she was hit and killed by a car on January 15th https://t.co/pw3j7cl3UB

— KPLC (@KPLC7News) January 24, 2023
'Absolutely not a rape?' 
Washington and an unidentified 17-year-old were charged with third-degree rape, while Lee and Carver were charged with principle to third-degree rape.
According to Louisiana law, a third-degree rape charge generally involves a victim who is 'incapable of resisting or of understanding the nature of the act by reason of a stupor or abnormal condition of mind produced by an intoxicating agent or any cause and the offender knew or should have known of the victim's incapacity,' KSLA reported.
Ron Haley, an attorney for two of the suspects, told WAFB that this was 'absolutely not a rape. Listen, this is a tragedy, definitely not a crime.'
He told the outlet that a video taken during the incident shows Brooks was coherent.
'Can you tell that she was intoxicated, yes. To the point under the law that you say you're in a drunken stupor, to the point that you cannot lawfully give consent or answer questions, absolutely that was not the case,' Haley told WAFB.
The attorney claimed Brooks and Carver got into an argument in his car.
'Based on a disagreement, she got out of the vehicle. She indicated she was getting an Uber. I want the public to know, these young men or really the driver of the vehicle and the young men that were in there, did not put her off on the side of the road,' he said.
Brooks, a native of Covington, Louisiana, was a member of the Alpha Phi sorority,KSLA reported.
'Madi was a bubbly, loving, and selfless friend. She left an indelible mark on our chapter, we cherish our memories together and we will never forget her. Our forever friend was also a hero, Madi donated her heart and kidneys to save others,' the sorority posted on Instagram on Monday.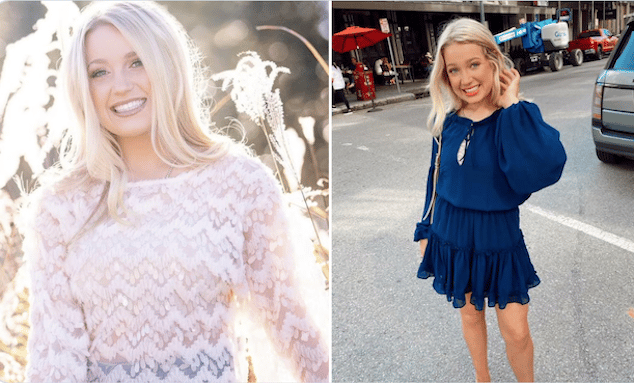 Will video evidence exonerate alleged male rapists? 
'We send our deepest sympathies to her family and friends during this incredibly difficult time. And we respectfully ask for time and space so we may support each other in our healing process,' it added.
In a statement, LSU president William Tate said: 'Madison was a daughter, a granddaughter, a sister, a niece, a classmate, and a friend to many of you. By all accounts, she was an amazing young woman with limitless potential. She should not have been taken from us in this way. What happened to her was evil, and our legal system will parcel out justice.
'Our collective grief and outrage cannot be put into mere words. So what can we do? It is time for action. One place to target our attention is the very place where this encounter began.' 
He noted that three of the suspects are underage, 'yet were able to consume alcohol at a local bar. As such, our action plan starts with a deep and relentless focus on any establishment that profits off our students by providing alcohol to underage individuals.'\
According to arrest documents, the driver believed the girl was too drunk to consent.
Haley believes the video evidence from inside the car will prove his clients are innocent and that bars selling alcohol to underage drinkers are to blame for the incident. Haley intends to hand over the video to investigators and the district attorney's office.