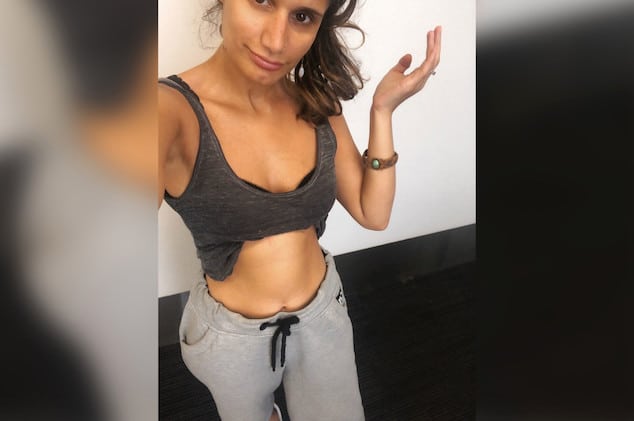 Was Melbourne, Australian woman, Serah Nathan slut shamed by Jetstar employees? A lesson in public decorum and getting over one's sense of self importance. 
An Australian woman has told of being 'slut-shamed' at a Sydney Airport while wearing track pants and a crop top while sitting on her boyfriend's lap.
Serah Nathan, 33, who's half Sri Lankan, told news.com.au that she was waiting for her flight on Sunday when staffers from Jetstar airline directed her to get off her boyfriend's lap because children were present.
Nathan reckons she was targeted as a result of her ethnic origins. The woman pointed out to the airline worker that a nearby white woman in the area "wore a very short strapless dress" but hadn't been bothered to reproach her. It was unclear if that woman had been displaying outward signs of amorous affection in the periphery of children.
At some point, Nathan said the Jetstar employee told her that her outfit might get her 'refused on a flight.'
Nathan showed the outfit off on Twitter.
'Today I got publicly slut-shamed by two @JetstarAirways employees, whilst wearing this outfit!' she posted.
She recalled how shocked she was when the airline worker made the request.
'My partner and I saw no children in the immediate vicinity and were bewildered at both this request and its relevance to how I was seated,' she said.
Nathan was waiting for her flight back home to Melbourne with a different airline when the confrontation occurred.
The Jetstar airline worker left and came back with a 'team leader,' who gave the couple the same directive.
'She reiterated there were children around and added, 'You're disrespecting the parents here by straddling your boyfriend," Nathan said.
A regard on social media led to the following responses from commentators:
'Honestly, if you sit on my lap wearing this, I'd throw big wood. It's probably not the best outfit to ride a man's lap in public.'
While another posted, Well this tweet and attempt at "clout" backfired immediately.
And there this was response too, 'Yeah siding with airline next time get a room.'
Jetstar has since denied discriminating against Nathan while stressing an investigation was ongoing (do you suppose?).
'We apologize to Serah for the manner in which her query was handled by our online customer service representative which fell well short of the standards we expect,' a Jetstar spokesperson said in a statement.
Of course one wonders if Serah may be exhibiting a bit of a chip on the shoulder about her own origins and her own reveling of sexuality – whether in front of children or not. Or as one may be opt to reckon, 'Serah, get over yourself luv ….' 
In light of the recent allegations of misconduct by men in Hollywood surfacing, I have decided to expose my own wrongdoings. This is my official statement. @jeremypiven @Miramax @KevinSpacey #LouisCK pic.twitter.com/NhEUrEvxFj

— Serah Nathan (@serahann) November 11, 2017