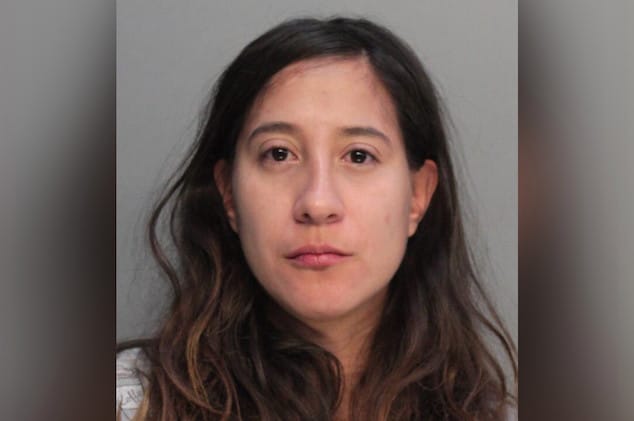 Esperanza Gomez Miami Beach, Florida woman arrested after biting her boyfriend's penis in frustration after accusing him of wanting to sleep with another female.
A Florida woman is alleged to have bitten her boyfriend's penis and threatened him with a knife after claiming the man wanting to have sex with another woman.
The alleged assault happened during an hours-long drinking session at a Miami Beach apartment that ended circa 3 a.m. Wednesday, NBC2 reported. 
Esperanza Gomez, 33, was drinking beers with her boyfriend when a female friend joined them at about midnight, according to an arrest report cited by the outlet.
The friend left a short time later — only for an 'enraged' Gomez to accuse her boyfriend of wanting to have carnal relations the woman.
She allegedly shouted at him, grabbed him by the arms and 'began to poke him with a knife,' according to the police report.
Matters escalated when the woman then 'bit his penis out of frustration,' the victim later told police.
Responding police said the victim had red marks and redness on his upper chest but no substantial injuries.
The man told police of warning Gomez to stop or he'd call 911.
Gomez was arrested and charged with aggravated assault with a deadly weapon, according to county records.
Her bond was set at $6,500.
Come Thursday, the miamiherald reported Gomez filing an affidavit for indigent status and being ordered to stay away from her boyfriend, citing Miami-Dade court records.