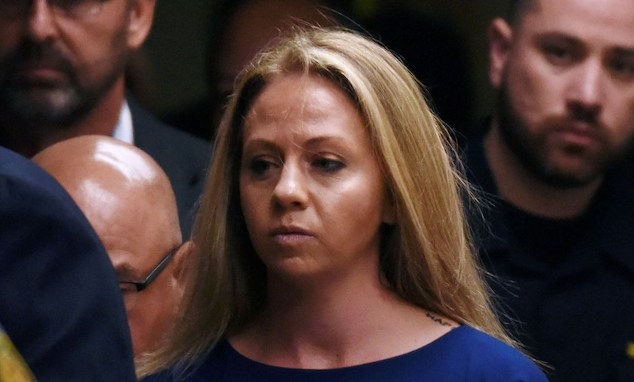 Ex Dallas cop, Amber Guyger guilty of murder of Botham Jean after claiming she had walked into the wrong apartment and shooting 'black man' she thought was intruder.
A Dallas police officer who fatally shot her black neighbor after 'accidentally' opening the door to the wrong apartment was on Tuesday found guilty of murder. 
Amber Guyger, 31, was convicted in Dallas court in the killing of unarmed 26 year old 'black man', Botham Shem Jean, in his own home after the former Dallas cop claiming she mistook the man for an intruder when she 'mistakenly' entered his apartment instead of her own in September 2018.
The error according to a then fatigued Guyger came after finishing a lengthy shift that involved overtime.
Guyger, who is white, testified she parked on the wrong floor of the Dallas apartment complex where she lived on September 6, 2018. She then walked to the apartment directly above hers – which belonged to Jean, – and fired when she encountered Jean.
The jury deliberated for less than a day before reaching the verdict in the case foxnews reported.
The ex-cop broke down as she took the stand Friday in the trial about the night that she gunned down her unarmed neighbor with her service weapon.
'I was fearful,' Guyger testified upon opening the door to what she believed to be her own apartment only to see a 'black man.' A black man who had been cowering in fear and demanding what Guyger sought when she had entered the accountant's apartment uninvited.
'I wish he had had the gun and had killed me,' Guyger testified. 'I hate that I have to live with this every single day of my life. I've asked God for forgiveness.'
BREAKING: AMBER GUYGER FOUND GUILTY OF MURDER

Tune in NOW to #CourtTV for LIVE coverage. #AmberGuygerTrial #BothamJean pic.twitter.com/zXp9BVxayF

— Court TV (@CourtTV) October 1, 2019
BREAKING: Former Dallas cop Amber Guyger has been found guilty of murder for the 2018 shooting of an unarmed Black man, her neighbor Botham Jean. The 31-year-old said she killed Jean after mistakenly entering his apartment. Guyger could face life in prison. pic.twitter.com/MKJx7yXAnp

— NowThis (@nowthisnews) October 1, 2019
Guilty for sexting with fellow Dallas police officer? 
Jean, a 26-year-old accountant from the Caribbean nation of St. Lucia, 'was doing no harm to anyone, which was his way,' Dallas County Assistant District Attorney Jason Hermus said in an opening statement. Jean was in his living room eating a bowl of vanilla ice cream on Sept. 6, 2018, when Guyger entered the apartment, which was one floor directly above her apartment, Hermus said.
Prosecutors argued that it was 'absurd' for Guyger to suggest that she didn't know she was in the wrong apartment. They claim instead of being tired the Dallas officer was alert and actively participating in a phone sexting conversation with her partner in the force — with whom she was having an affair.
'Super horny today too,' Guyger texted to Rivera. 'Me too,' fellow officer, Martin Rivera texted back.
Some of the messages sent were deleted after the shooting, prosecutors said.
'Most of what she said was garbage,' Dallas County Assistant District Attorney Jason Fine said Monday.
Guyger was arrested three days after Jean's killing and fired from the force.
She was originally charged with manslaughter, which carries a 20-year sentence. The charge was upgraded after protests.
She faces up to 99 years in prison on the murder charge.