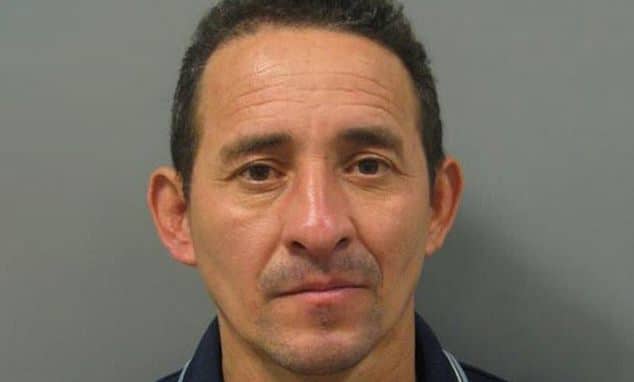 5th illegal immigrant, Nelson Saul Reyes-Medrano arrested in Montgomery County in month of August after Maryland teen girl rape. Sanctuary laws criticized. 
An illegal immigrant in Maryland is alleged to have crawled into the bed of a 16 year old teenage girl while she was taking a nap and placed a knife against her throat before proceeding to rape her, authorities said. 
Nelson Saul Reyes-Medrano, 46, according to a Montgomery County Police Department release was charged with first-degree rape, sex abuse of a minor, and first-degree assault in connection with the late August 2018 attack.
The man's arrest marks the fifth illegal immigrant to be arrested for sexual assault in the county in just the last month.
At the time of the alleged incident, a U.S. Immigration and Customs Enforcement spokesman told FoxNews that Reyes-Medrano – an El Salvadorian national had been living in the U.S. illegally and that the federal law enforcement agency has lodged a detainer against him.
ICE detainers serve as a legally authorized request, upon which a law enforcement agency may rely, to continue to maintain custody of an illegal immigrant for up to 48 hours so that ICE may assume custody for removal purposes, according to the federal agency.
Local police said the victim was taking a nap at the apartment where Reyes-Medrano also lived when she felt someone else get on the bed. She opened her eyes only to see the 46 year old man had positioned himself on top of her.
'Take your clothes off,' Reyes-Medrano allegedly told the victim twice according to court documents obtained by WJLA, before placing the dull side of a knife against the victim's neck.
After the victim slowly started to undress, he allegedly grew impatient and proceeded to rape her.
The victim told detectives she was in pain during the assault, which only ended after a noise was heard outside the apartment – leading to Reyes-Medrano getting off the bed, putting his clothes back on and leaving the apartment. 
A Montgomery County District Court denied bond for Reyes-Medrano, citing the severity of the allegations and pending ICE detainer. 
'The allegations are incredibly serious,' Judge Amy Bills said in court. 'The allegations are that a knife was brandished and a first-degree rape occurred.'
The arrest has once again ignited demands for the round up of illegal immigrants and officials' ability to inquire about those individuals who they suspect to be in the US illegally.
The episode follows Montgomery County Executive Marc Elrich signing an order on July 22, 2019- a 'sanctuary law,' prohibiting county officials from inquiring about residents' immigration status or cooperating with ICE. County police may only call ICE to inform them of an illegal immigrant's release from custody if the immigrant is accused of a 'serious crime,' like rape.
The move to offer sanctuary protection was made as an affront to preempt the 'illicit' and random targeting of individuals it suspects – to what amounts to immediate deportation.
Not immediately clear is how long Reyes-Medrano had been in the US illegally and how the man had managed to enter beyond the border along with how he managed to continue staying in the US illegally.