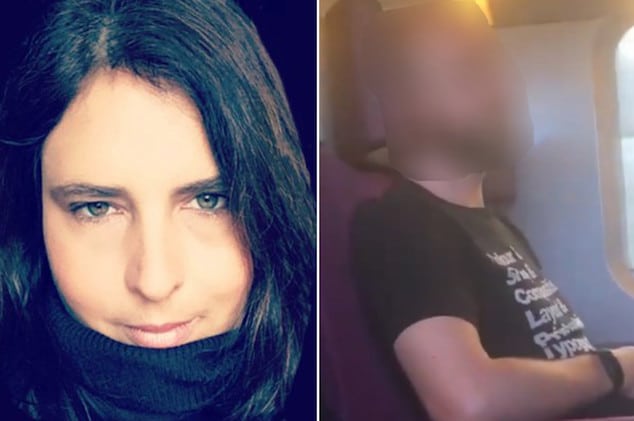 Natacha Bras sex act video goes viral leading to the French woman potentially facing a $50K for infringing on one pervert's privacy rights. Debate ensues. 
She was only trying to protect herself, but a French woman who recorded a man 'pleasuring himself'  (see below) during a recent train trip may end up on the short end of the stick after the man's offending actions went viral- infringing on his privacy rights.
Natacha Bras, 37, shared the 'offensive' act on social media -with the video soon going viral with commentators expressing sympathy with Bras and disgust at the 'sex perv' who 'masturbated' in front of the woman in a bid to provoke her.
According to the UK's Sun, Bras was traveling from Paris to Poitiers, when he man in the video moved to sit close to her as he proceeded to then touch himself for the next 75 minutes – all the while making eye contact claims Bras.
Bras, the vice president of a group that supports sexual assault victims, says she only started filming to protect herself from the man's sexual harassment, who she claims also followed her toward the bathroom in the near-empty train carriage.
Her video quickly went viral — especially after she noted that, theoretically, she could have been in more legal trouble than he for breaking France's strict privacy laws for posting the video without his consent.
If caught and convicted, the unidentified man she filmed could face a year in jail and be fined almost $17,000, according to French media.
Sexual harassment vs privacy infringement of perpetrator: 
However, Bras could potentially face the same amount of jail time for breaking France's strict privacy laws — and a maximum fine of more than $50,000, according to the reports.
'A man masturbated in the train next to me for 1:20. I filmed him, and today I can be sentenced to a heavier penalty than him. Do you think it is acceptable?' Bras asked on Twitter.
Police have opened an investigation against the man. His identity and whereabouts continues to be unknown. For now.
Bras' initial 20-second video, which did not blur the man, has been viewed more than 117,000 times, with stories going viral in France. And expected to continue going viral. 
Paris > Poitiers en TGV ( soit environ 1h15) avec un mec qui change de place et s'assoit en face de moi, me regarde et qui se masturbe… y'a encore du boulot! Pas de raison de ne pas pas l'afficher alors je mets la vidéo ici! (La plus soft des vidéos disons) pic.twitter.com/FUyPPAJ7ff

— Natacha Bras⭐️ (@Onlygold20) June 22, 2019
French woman films male passenger masturbating in front of her on train (and risks paying a penalty 3X larger than his). Hmmm #justice ? #France https://t.co/KqS4FyT9Tc via @Observers @Onlygold20 Sorry for what you went through!

— Christine Buckley (@christibuckley) June 27, 2019
Je viens de trouver un autre spécimen agresseur qui en plus pense que c'est à la victime de chercher une solution. Salope? On se connaît? Ou c'est juste parce que si le mec s'est masturbé à côté de moi c'est forcément ma faute? #MondeALEnvers #OnMarcheSurLaTete #CultureDuViol https://t.co/HVCAPUOtUy

— Natacha Bras⭐️ (@Onlygold20) June 28, 2019