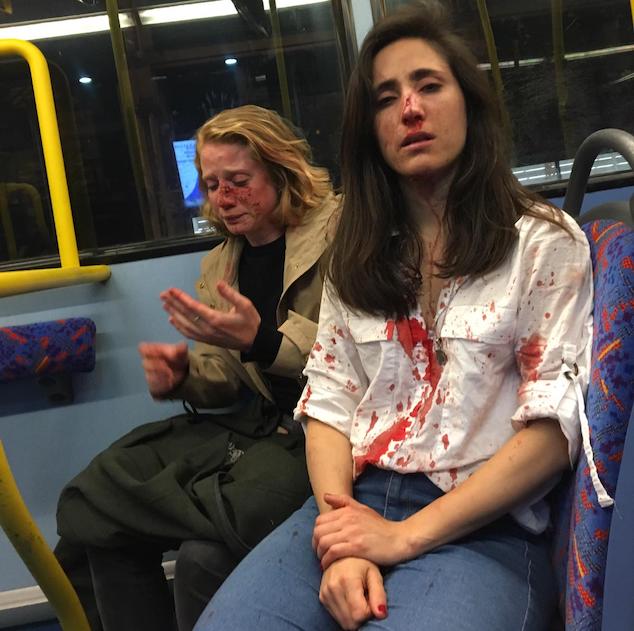 Melania Geymonat and her girlfriend, Chris attacked by group of men after refusing to kiss for their entertainment. No arrests made. 
A London woman and her girlfriend have been beaten by a group of men when the couple refused their demand to kiss each other for their entertainment, according to police reports.
Melania Geymonat, 28, said she and her American girlfriend, Chris, were on a London bus when the male group 'started behaving like hooligans, demanding that we kissed so they could enjoy watching, calling us 'lesbians' and describing sexual positions,' according to a Facebook post the battered woman shared on social media.
The men allegedly attacked Chris first before punching Geymonat, a flight attendant for Ryanair, when she tried to defend her girlfriend. The incident left both women badly shaken and bloodied.
Posted Geymonat, 'I'm tired of being taken as a SEXUAL OBJECT, of finding out that these situations are usual, of gay friends who were beaten up JUST BECAUSE,' alongside a photo of the couple with blood on their faces and clothes.
'We have to endure verbal harassment AND CHAUVINIST, MISOGYNISTIC AND HOMOPHOBIC VIOLENCE because when you stand up for yourself shit like this happens,' the woman continued.
'By the way, I am thankful to all the women and men in my life that understand that HAVING BALLS MEANS SOMETHING COMPLETELY DIFFERENT. I just hope that in June, Pride Month, stuff like this can be spoken out loudly so they STOP HAPPENING!'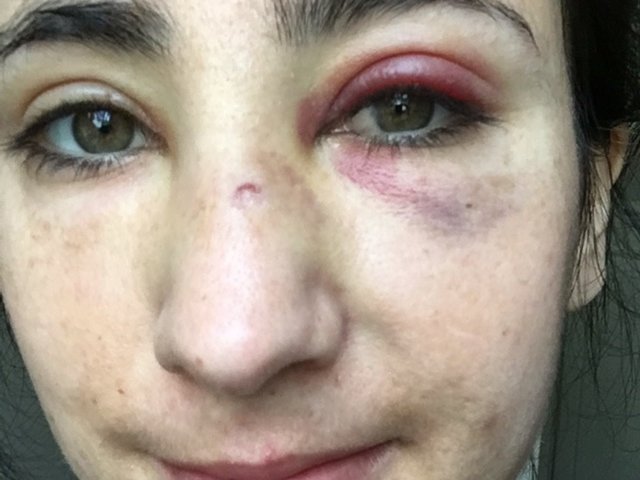 Melania Geymonat: On why she had to post photos.
A report via London's Evening Standard told of the assault taking place in the early morning hours of May 30, circa 2.30am. The couple had been returning home following an evening out along West Hampstead, North West London.
Geymonat, from Uruguay, said a group of men in the seats behind them noticed that they were a couple and demanded they kiss. She said the men then made crude sexual gestures and attacked them when they refused to kiss.
Geymonat said she was driven to post the photo because 'sometimes it's necessary to see a woman bleeding after having been punched to feel some kind of impact.' London's Metropolitan Police is investigating the allegations.
Reiterated the woman, 'It's not something isolated — it's common. We were seen as entertainment. That's what makes me so angry.'
London's Metropolitan Police said in a statement on Friday that the gang also stole a phone and a bag as they fled the N31 bus in London's West Hampstead neighborhood. The police described the incident as a "homophobic assault" and are asking for witnesses.
No arrests to date have been made.